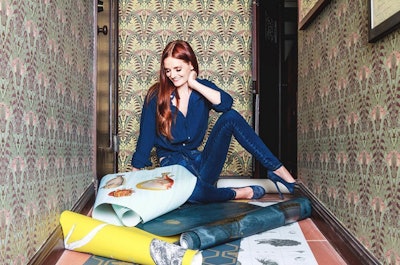 As actress, model, and famous heir Lydia Hearst preps for her upcoming wedding to Chris Hardwick this week, Matrix Style Link Celebrity Stylist George Papanikolas has one aspect of the preparations covered -- her hair! George worked to enhance Lydia's natural features with a gorgeous, rich copper shade that's stunning for any bride. Below, he shares his tips for recreating Lydia's color for your own bridal clients.
"Lydia has an amazing natural auburn tone to her hair, so emphasizing that color and allowing its natural shine to come through for her big day was my goal," says George. "Using Matrix Color Sync Ammonia - Free Demi Color fills damaged gaps in the hair fibers to create an even canvas, which brings natural tones and shine to the surface."
When it comes to pre-wedding maintenance, George knows that prevent fading is key. "Any bride wants to have their hair looking like they stepped out of the salon and onto the aisle, but realistically, many are a few days from their salon appointment. The key to maintaining that salon-fresh hair is salon professional shampoo and conditioner," he says. "For Lydia, I recommend using Matrix Total Results Color Obsessed Shampoo and Conditioner. This formula protects against fading and extends the life of your color vibrancy."
Help your brides prep for the big day with a last minute treatment. "A night-before color treatment will do wonders for big day ahead," says George. "Matrix Biolage ColorLast Hair Mask aids in moisture while sealing fibers and locking in color."