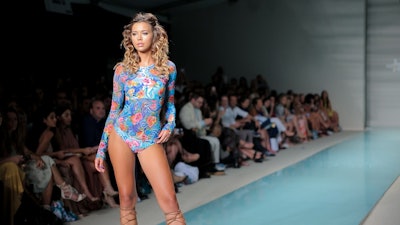 The Luli Fama 2017 show, presented at Miami Fashion Week, was all about "freedom of expression," according to Augusto Hanimian, one half of the creative team behind the sultry swimwear brand along with sister-in-law Lourdes "Luli" Hanimian. In that vein, the show was filled with excitement as tribal dancers and fire twirlers took the stage before models strutted down to showcase the 2017 collection's "wild prints and tie-dyes, feathers, tattoos and asymmetrical lines."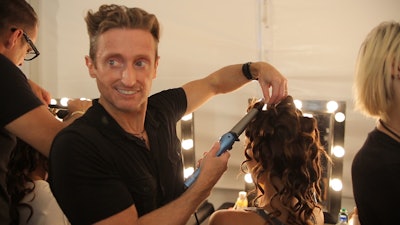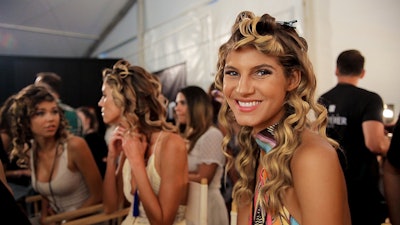 To complete the free-spirited look for the 2017 collection, Luli Fama partnered with René Furterer for the fourth consecutive year. The concept for the hair look: texture, movement and activation. To create the beach-inspired styles for the runway, celebrity hairstylist and artistic director John Vella of Izzazu Salon & Spa in Wexford, PA, led the exclusive René Furterer team backstage. Check out Vella's how-to below so you can get the look in the salon!
Get the Look:
"To begin the look, I sprayed René Furterer NATURIA dry shampoo throughout the hair to increase the volume and give it initial texture and grip," says Vella.
"Next, using a 1 ¼" curling iron, I created tight, spiral curls by twisting and wrapping the hair, section by section, around the barrel. Before and after curling each section of hair, I applied René Furterer VEGETAL STRONG HOLD FINISHING HAIR SPRAY to each strand to give the curls a bit more hold.
"Once the hair was dry, cool to the touch and the curls had set, I combed through the hair with my fingers to loosen the curl slightly and to make the hair softer and more touchable.  
"I then generously sprayed René Furterer VEGETAL TEXTURE SPRAY all over the hair and teased the curls, gently mussing and finessing them with my fingers. This helped make it appear as though the model had spent the day at the beach.
"For a few of the models, I created side-swept French braids and for several others, I created braided accents on the sides of the head and on the crown.
"Finally, a misting of René Furterer VEGETAL STRONG HOLD FINISHING HAIR SPRAY kept the hair securely in place and gave all of the looks a natural finish."