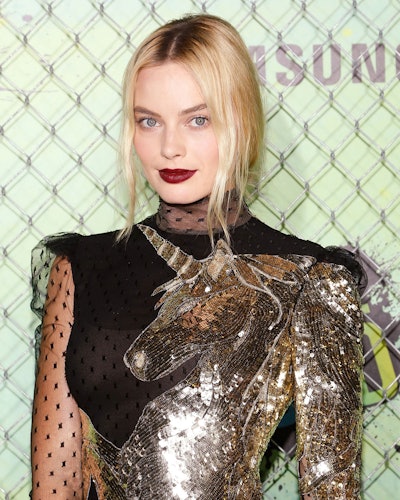 For last night's NYC premiere of Suicide Squad, celebrity hairstylist Renato Campora created a low-key look for actress Margot Robbie. A simple looped ponytail with face-framing tendrils paired perfectly with Margot's ornate, high-necked gown from Alexander McQueen, showing off the dress' bedazzled unicorn pattern.
A cool blend of high and low fashion, the look is great for client's looking for something quick and slightly edgy, yet still put-together. Recreate Margot's low looped ponytail with the how-to, below!
Get the Look:
Renato started by applying KMS ADD VOLUME Volumizing Spray and KMS FREE SHAPE Hot Flex Spray to Margot's damp hair to create a voluminous base, using the VARIS Blow Dryer to dry her locks completely.
Once her hair was completely dry, Campora pulled Margot's strands together at the base of her neck, making sure to leave a few face-framing strands loose at the front.
Next, he twisted the hair and pulled it once through a rubber band, then pulled halfway through a second time, creating a loop. Then, he used a hair accessory to secure the looped hair over the rubber band.
Campora then wrapped the remaining hair around, using bobby pins to secure and pulling out a few random pieces to create more of an "undone" look.
Lastly, Campora sprayed a bit of the KMS FREE SHAPE 2-in-1 styling + finishing spray to hold the look in place for the evening.