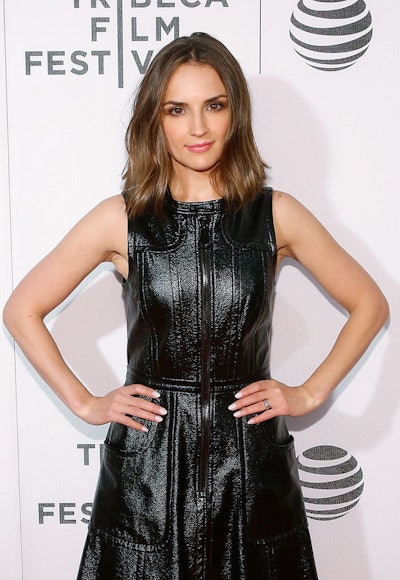 Celebrity stylist and Global Creative Director for Nexxus New York Salon Care, Kevin Mancuso, recently styled actress Rachael Leigh Cook for the Tribeca Film Festival. To complement the She's All That star's slightly edgy leather dress, Mancuso created chic waves with a "downtown" vibe.
"You can't miss the fact that the 90s are having their revival at the moment, and it's been great to work with an icon such as Rachael," said Mancuso. "She is stylish and chic and I wanted to keep her styling refreshingly minimal, to be paired with her rock-chic outfit for Elvis and Nixon tonight.
"This started with some precise and structured hair cutting, unlocking movement in her hair to leave it just looking that little bit more modes and effortless, and finishing with a subtle wave - dramatic but downtown and perfect to take her from the premiere to the party."
Recreate this gorgeous look with Mancuso's how-to, below!
Get the Look:
Wash hair with Nexxus Therappe Shampoo and Humectress Conditioner and towel-dry. Apply the Nexxus Hydra-Light Root Lift Mist to the roots to get volume right from the scalp.
Use fingers to rough up the hair as you dry, lifting the roots to add height and texture. This helps ensure that even after a long day, the hair doesn't fall flat or limp from the roots.
After the hair is dry, apply two pumps of the Nexxus Encapsulate Serum to the lengths and ends before ironing to add glide and also protect.
Next, apply Nexxus Mousse Plus from two inches above the roots to the tips. Using a medium-sized curling iron, take 1.5-inch sporadic sections of hair and curl to create separated, elongated, uneven spirals around entire head.
Finish with a spritz of Nexxus Comb Thru Finishing Mist and mess up the hair by using your fingertips to add softness.