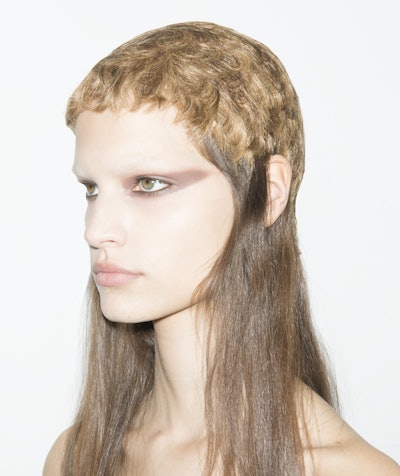 Redken Global Creative Director Guido created short fringes on wigs to emphasize a punk rock and roll look at the Givenchy Fall/Winter 2016 show at Paris Fashion Week this year. "There were two looks for the girls at the Givenchy show with one being much fiercer than the other," says Guido. "Some of the girls had natural hair, while others also wore a wig which gave the feel of a punk, 70s British street girl. It's an unusual style and new to the eye. Each wig was cut and styled separately, and was then colored to a shade slightly off from the girl's original color to further accentuate the wig from the natural hair. To create a silky effect, I used satinwear 02 to blow dry the natural hair and then, after securing the wig, used my fingers to pull sections of the hair out to create a real messy movement and texture."
Show: Givenchy F/W 2016
The Look: Punk Rock Duality
Stylist: Guido
How-To:
Start with clean hair by washing with Redken's new Beach Envy Volume Shampoo and Conditioner.
Apply Redken satinwear 02 prepping blow-dry lotion to damp hair and blow dry hair using fingers.
Once hair is dry, spray Redken wind blown 05 dry finishing spray to add texture.
Create a square section on the top of the head and flatten using pins so the wig can be easily placed.
Place wig on top of head over the square section. Secure to head with pins.
Using scissors, create fringe at the front hairline. Tuck hair behind the ear, allowing ears to show and ensuring hair falls loosely allover.