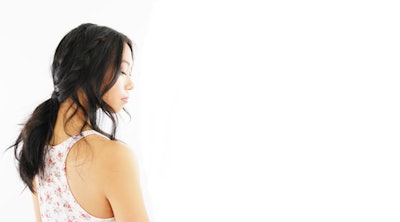 The ponytail is one of the most universal ways to style hair – everyone has their signature default version, because it's so darn comfortable and easy. BUT, the line has to be drawn if it's just the old pull back and secure, there are so many cooler ways to wear ponytails these days.  Ruth Roche, Artistic Ambassador for Pureology Serious Colour Care, shows Melanie Ngo, contributing writer divalicious.nyc, just how easy it is to create a Braided Ponytail:
"We created multiple braids that were pulled apart for a lacing effect and then swept back into a ponytail – it literally takes minutes to do and adds cool texture to a ponytail," says Roche.
Braided Ponytail:
Rub a small amount of Pureology Colour Stylist Density Definer in hands.
Take a section on one side of the head towards the front half, apply product and create a 3-strand braid (right over left, left over right, etc.).  Braid loosely, and at the bottom where the elastic will be, hold with fingers and starting at the top of the braid, gently pull up on each strand to create a lace effect.  Make sure to pull up and not towards the face.  Secure with elastic.
Repeat on a section more towards the back of the head, so there are 2 braids on the side.
Repeat previous steps on other side of the head.
Pull back into a low ponytail, leaving pieces out in the front to frame face and look organic…or, skip this step and just wear the lace braids with hair down! 
"This braided ponytail looks effortless, but it's unusual…it's a little different, not your average ponytail," adds Roche.
Look for other tips and tricks for a good hair day on www.ruthroche.com.
[Image and video courtesy of Glow Communications]