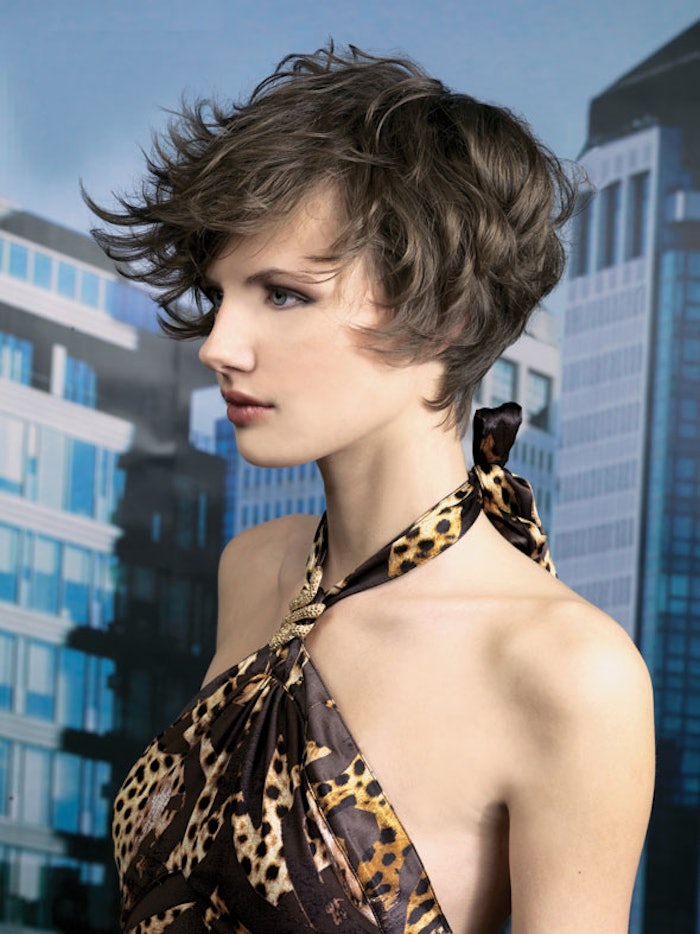 Give a short bob some body in this hair style how to!
Hair: Diadema Hair Fashion
Makeup: Cristina Marzo per 20100 Milano
Photography: Stefano Bidini
---
Step 1:  Point cut the hair at the nape of the neck.
Step 2:  Continue up the left side toward the cheekbone.
Step 3:  Continue up the right side toward the earlobe and point cut from the earlobe toward the chin.
Step 4:  Create the fringe on the left part to the eye covering the left side.
Step 5:  Cut diagonally from left eye and eyebrow height to below the eye.
Continue down using a point cutting technique to the earlobe.

Step 6:  Blend hair freehand from earlobe to the front, making the perimeter round.



Step 7:  Isolate a 2 cm. section on the top section previously made and comb it to the fringe.
Lift and point cut following the previous line including the side.
Step 8:  Make two diagonal sections in the back and follow the previous lengths.
Point cut lengthening graduations.
Step 9:  Personalize by combing hair in a natural fall, then taking sections and thinning toward the face with thinning shears.
 
Lisa final photo:
---
Click for More Hair Styles How To's SHORT CUTS:
Click for More Hair Styles How To's MID-LENGTH/LONG CUTS: