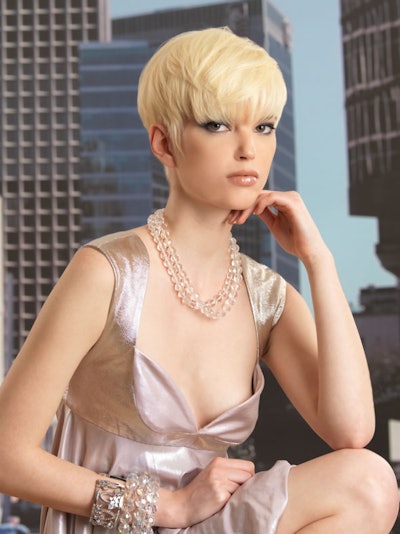 Hair: Diadema Hair Fashion
Makeup: Cristina Marzo per 20100 Milano
Photography: Stefano Bidini
---
Step 1:  Divide the hair from temple to temple and two fingers below the crown.
Step 2:  Rough cut the entire lower area with scissors over comb.
Step 3: Repeat on the sides.
Step 4:  In the back, comb hair down naturally and cut with a razor to the height of the occipital bone.
Randomly pick sections and make some long and some short.
Step 5:  Use the same method on the sides.
Step 6:  For the fringe area, create a classic triangle.
Cut with a razor halfway down the nose.
Step 7:  On the top, cut the hair perpendicularly to thin up to the crown.
Step 8:   Layer vertically to thin.
Final Photos:
---
Click for More Hair Styles How To's SHORT CUTS:
Click for More Hair Styles How To's MID-LENGTH/LONG CUTS: