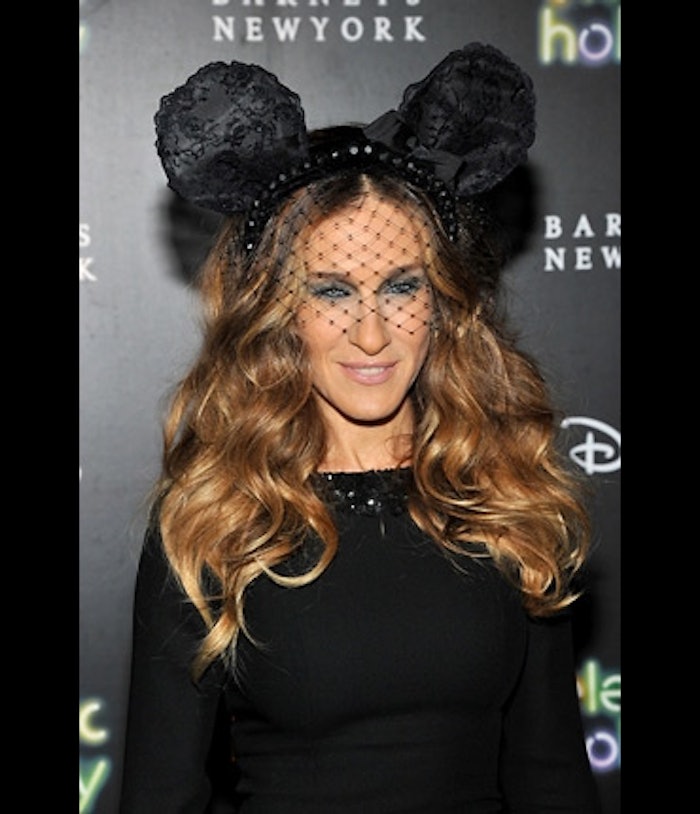 Wella Professionals Celebrity Stylist Andy LeCompte took break from taming Madonna's mane while on the MDNA Tour with her to give SJP her luscious locks at the Barneys New York and Disney electric holiday window unveiling on November 14th in New York City.  Sarah Jessica Parker also rocked a pair of custom made Mickey Mouse ears.

Here's how Andy recommends achieving the look:
Start by applying 2-3 pumps of Wella Professionals Velvet Amplifier, which is a great serum to use on wet or dry hair to tame frizz and smooth the surface of the hair. It also gives the hair some texture and hold so the hair is primed for styling.
Then, section the hair to blow it out with a round brush that will give the hair body and volume.  Use a tennis ball sized amount of Wella Professionals Natural Volume Mousse to rake through the damp hair before blowing out each section.
Once the hair is completely dry, heat up a 1.5" to 2" curling iron.  Prep hair with a mist of the Wella Professionals Thermal Image Heat Protection Spray to protect hair from the heat tools.  First, curl the front section away from the face and then curl the rest of the hair alternating the curls towards and away from the face to create a less uniform, naturally curly look.
Pin large curls into place to set the curl for about 20 minutes.  As you remove the pins, finger comb the curls out and into place so there's natural movement.  Then use Wella Professionals Stay Essential Finishing Spray to spray underneath for an added lift and texture in the hair.
[Image: Theo Wargo/ Getty Images Entertainment]
Related:   Nikki Reed at the Twilight Saga - Breaking Dawn Part 2 Movie Premiere |  Straight from Backstage: Peter Som Spring 2013  |  Hairstyles How To: The Emmys with Julie Bowen, Elisabeth Moss and More Styled by Wella  |  Madonna's World Tour Necessities: Wella's Stay Essential Finishing Spray  |  Wella Professionals Inspires Runway Trends with Trend Vision 2012  |  Hair by Wella: Selena Gomez at the Teen Choice Awards |  Andy LeCompte Honored as Hair Stylist of the Year at Style Awards  |  Celebrity Hair Color: Kim Kardashian Lightens Up  |  Katie Holmes Styled by Andy LeCompte for Jack & Jill Movie Premiere