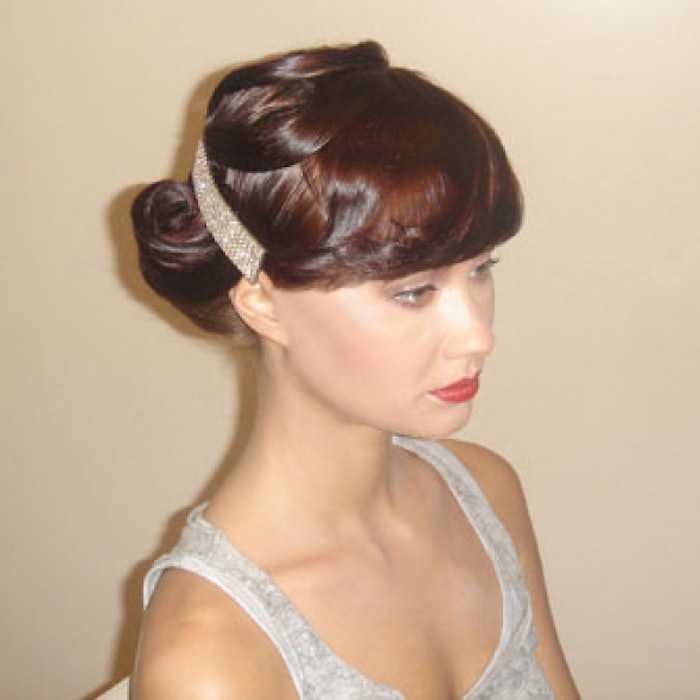 Salon: Diadema Hair Fashion
Photography:  Stephano Bidini
Makeup:  Cristina Marzo per 20100Milano
---
Step 1:  Make a rectangle in the front from two fingers behind the top to eyebrow ends.

Step 2:     Divide from ear to ear.
Createa triangle from the section to 1 cm. below the crown peakand isolate it.
Step 3:  Isolate a 4 cm. square in the back right following the side of the triangle.


Step 4:  Create an upward banana curl with the lower back area and all the left side (tease the inside to make the banana).
Step 5:  Divide the square with a diagonal from right to left, starting at the middle of the side of the triangle.


Step 6:  Make a wave to the left with the upper section from the division.
Step 7: Take the remaining section...


Step 8:  ...make a banana curl that will be attached to the previous one created underneath.
Step 9:  Take the right side and bring it onto the banana.



Step 10:  Divide the upper triangle into 4 sections.
Step 11:  Make a flat wave with the farthest left section.
Step 12: Lay the central section on the first wave.

Final Photos:
---
Click for More Bridal Hair Styles Step-by-Step How To's: