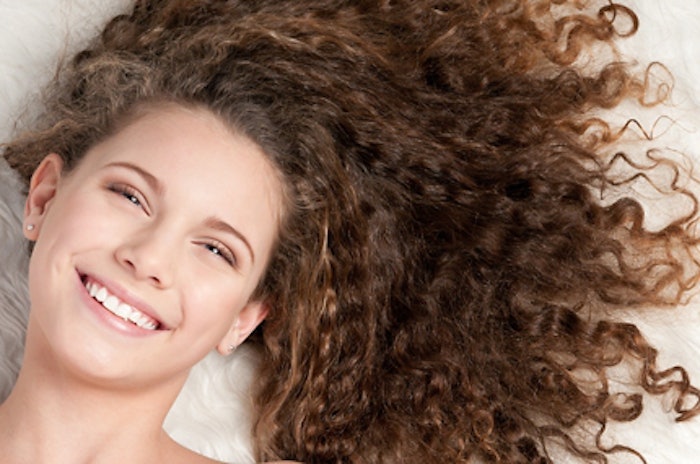 "Fifty percent of North American women have natural wave or curl to their hair. For these women, texture is not a trend that comes and goes, it's a lifestyle - and they're looking for guidance on how to embrace it," says Sam Villa, top Redken stylist.

Naturally curly hair is fragile, prone to frizz, lacks shine, is dry and unpredictable, so shampooing and conditioning wavy, curly, springy and spiral hair takes skill and finesse, and should only be done 2-3 times a week. Villa suggests the following:

·Saturate hair with water - curly hair tends to repel water, so wet from underneath all the way down to the scalp. Run fingers through hair to determine if there is resistance, if there is, apply conditioner first before shampooing. Redken Curvaceous Curl Drive nourishing mask for dry intense curls can be applied with hands from ends to scalp by raking fingers through to evenly distribute and detangle.  This step is normally needed if you are working with kinky curly and very tight curls.

·Apply shampoo from ends to scalp raking fingers through hair.  Curvaceous Cream Shampoo is sulfate-free so it does not lather very much which is beneficial when cleansing curly hair. Foaming a traditional shampoo by agitating hair in circular or back and forth motions creates friction and tangles. To cleanse the scalp of oils and product buildup, use a gentle massaging motion with fingertips to manipulate shampoo down to the scalp.  From the scalp, go back to the nape area, from underneath, run fingers through the hair, then to the sides and back up to the crown area to rake through the entire head to loosen tangles.  Rinse shampoo.
·Apply a conditioner like Redken Curvaceous Conditioner - springy/curly or kinky/curly needs moisture put back into the hair. To apply, begin at the ends and work towards the scalp, raking fingers through hair.  Manipulate the conditioner back down the hair shaft all the way through the hair from scalp to ends. Curvaceous Conditioner is a very concentrated product - a little goes a long way. Depending on hair type (tends to frizz) and weather (especially in high humidity) some conditioner can be left in the hair.  When working on fine textured hair or hair that does not have a tendency to frizz, rinse the conditioner out.  Once condition is rinsed out, fingers should glide through hair effortlessly!
 
·Wring excess water from hair and squeeze sections with a t-shirt to rid hair of excess water.  Using a t-shirt is much more gentle than the coarse fabric of a towel which roughs up the cuticle and causes frizz.
[Image: Thinkstock/iStockphoto]
Related:  Address Dandruff |  Guy Tang's Color Correction Tips  |  WATCH: Create Loose, Sexy Curly Hair  |  Sam Villa's Cutting Tilted Fringe  |  How to get the look: Gorgeous Glam Hair  |  Hair Styling Repair: Marko Tomassetti |  Five Summer Tips for Curly Hair  |  Summer Curls  |  How to Cut Curls  |  WATCH: John Paul DeJoria and Angus Mitchell Discuss New Curls Line  |  WATCH: Paul Mitchell's Robert Cromeans Talks Curls  |  Sam Villa's Bumps and Lifts  |  Sam Villa's Quick and Easy Top Roll  |  The S Braid with Sam Villa