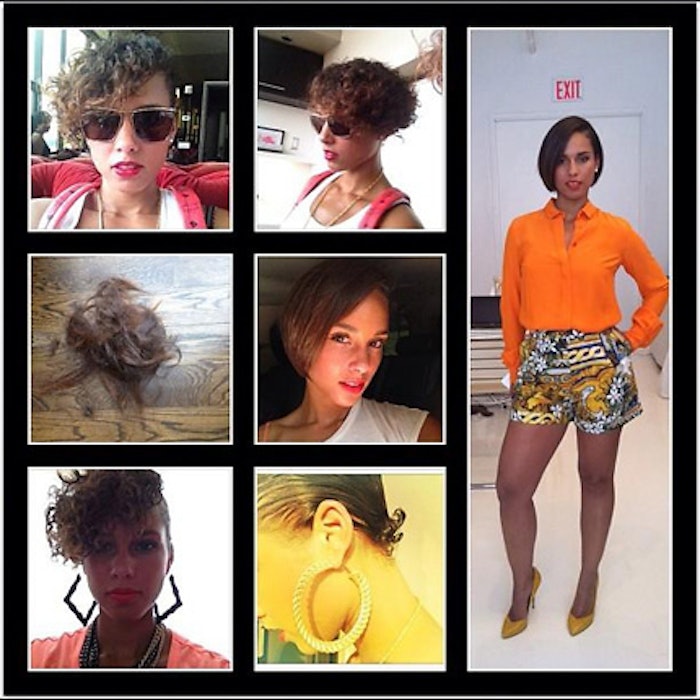 Celebrity hair stylist Tippi Shorter shares the steps to creating Alicia Keys' choppy bob:

I took off about six inches as a base length and created texture using a razor. I prefer to cut curly hair with a razor; with shears, the finished style always tends to either be too angled or too round. The razor gives me great shape with a fresh feel.

It had been a while since we last did color and it had oxidized so much. I used Goldwell 6a and 30vol for base and did a prelight on a halo of highlights and toned with 7na and 10vol.

Alicia has talked about cutting her hair for the last 5 years. This seemed like the perfect time with the upcoming release of her new project. She wanted something that she could still wear curly but also that could translate to edgy as well as sexy. We decided on a short, slightly asymmetrical choppy bob. She loves it and I'm excited for all of the styling possibilities.
[Images courtesy of Tippi Shorter]
Related:  Alicia Keys' Billboard Music Awards Hair  |  Trend Release: The Bob is Back!  |  David Babaii Re-Cuts & Styles "Glee" Star Dianna Agron's A-Line Bob  |  Celebrity Hair Styles: Timeless Styles for Men  |  Celebrity Hair Styles: Zoe Kazan  |  Celebrity Hair How-To: Lacey Chabert's All American Balayage  |  Celebrity Hair Styles: Create Olivia Munn's Flirty Curls