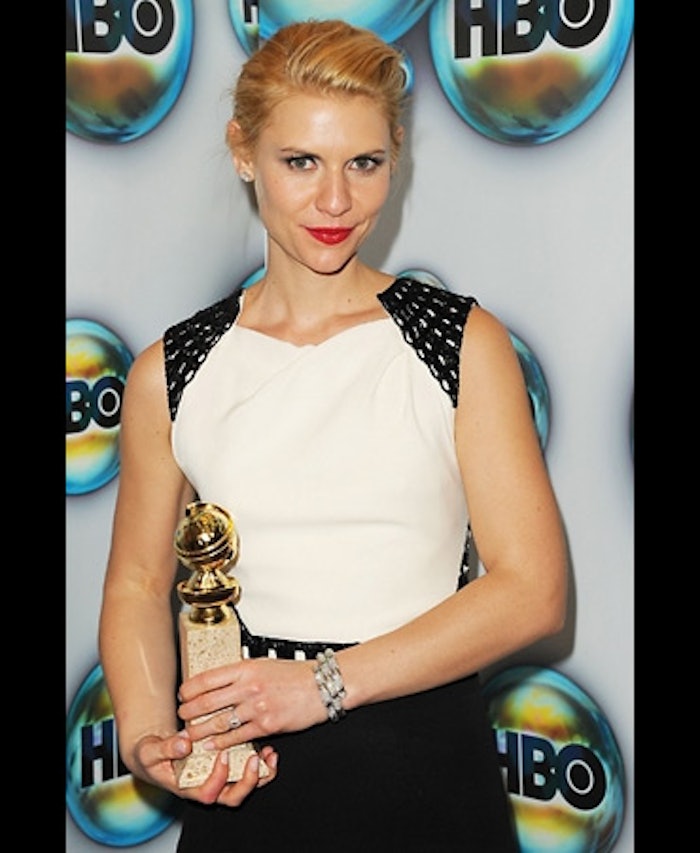 Wella Professionals share their 2012 Golden Globe Awards techniques:

 
Claire Danes' chic, modernly messy bun complimented her J. Mendel dress; a frock with a neckline that is very geometric with hard lines requires soft hair. Peter Butler mentioned that he was envisioning a modern Grace Kelly.
 
To create this look, Peter Butler blew out Claire's hair with Wella Professionals Extra Volume Mousse.  Once completely dry, he curled her hair with a large barrel curling iron for extra volume. Pull the hair back into a high pony and wrap the hair in a tight knot. This look was only secured with two hair pins! Lastly, Peter combed back Claire's hair with his fingers, coated with Wella Professionals Mirror Polish Shine Serum for a soft sheen and a quick spritz of Wella Professionals Stay Essential hairspray for a hold that will last all night.




Campbell says he created "red carpet naturally enchanting" for Shailene. Here's how you can recreate her style at home:
First, prep wet hair using Wella Professionals Velvet Amplifier and then let dry naturally with a diffuser. Campbell says "I love this product because it makes the hair look healthy and shiny and gives great volume.
Once nearly dry, lightly mist hair with Wella Professionals Thermal Image Heat Protection Spray before using a 1 ¾ curling iron to enhance natural waves.
Once hair is prepped, then take a section from crown to ears to divide hair into a front and back split section.
At the back section, pull hair back into a ponytail, not pulling it too tight so that there is still a natural hair movement.
Spray Wella Professionals Shimmer Delight Shine Spray in the front section to give the best glossy finish for the red carpet.
Then, sculpt hair into a side parted wavy style with hands moving into a beautiful twisted bun.
Finish off with Wella Professionals Stay Essential Hairspray.


According to Andy, "Madonna wanted easy natural texture hair." "To start, I rough dried her hair manipulating and emphasizing her natural texture.  Next I applied a mist of Wella's Thermal Image Heat Protection Spray to protect the hair from thermal heat as well as give the hair a slight bit of texture. I spray this before I use my FHI platform 1 inch flat iron to make soft S formations, giving the hair a natural wave texture. Then finish with a mist of Wella Professionals Ocean Spritz Beach Texture Spray. One of Andy's fave products, he says "I love Wella's Ocean Spritz to break up the texture."


 "Michelle looks incredible with this short, modern Mia Farrow inspired style.  It's a retro '60s combined with Flapper flair type of look that shows there's still a lot of glamour and versatility with short hair."
First, apply Wella Professionals Natural Volume Styling Mousse to wet hair and then shape hair with hands to air dry naturally in the direction of the style. Once dry, use hands and a hair dryer directed at the roots to give extra lift at the crown and body throughout. Then apply Wella Professionals Mirror Polish because the shine serum adds a polished finish while smoothing hair into a shape. Adding a simple black headband with jeweled brooch gives a modern spin to this retro look. Push bangs over to the side where the jewel is positioned for a heavy fringe effect. Spray Wella Professionals Stay Essential Finishing Spray to smooth hair down and give hold throughout the night.


 "What we love about Wella stylers is that they are light and there's no product buildup so the hair still has a natural look and won't get weighed down throughout the night," Chris explains. Prep wet hair with Wella Professionals Natural Volume Styling Mousse and loosely dry for a textured finish. Spray Wella Professionals Stay Essential Finishing Spray while hair is nearly dry so it's slightly piecy and pull into a imperfect, textured French twist. Add a headband at the top of the head to complete the look for an added touch of elegance.

 
[Images: Claire Danes by Jason Merritt/Getty Images Entertainment; Michelle Williams by Steve Granitz/Wire Image, Madonna by Steve Granitz/WireImage, Shailene Woodley by Frazer Harrison/Getty Images Entertainment; Busy Phillips by  Jason Merritt/Getty Images Entertainment]