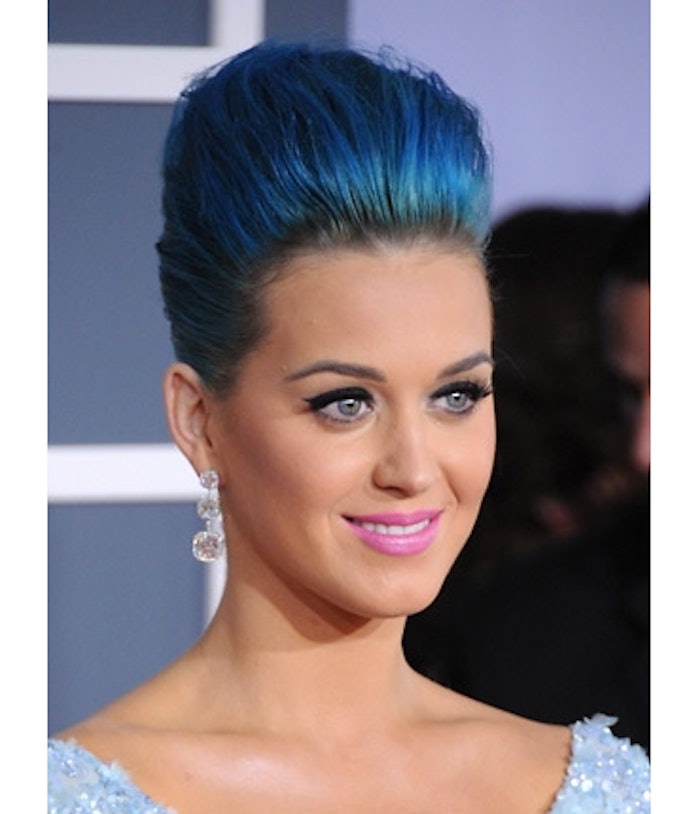 Celebrity Makeup Artist Jake Bailey created Katy Perry's Grammy Awards makeup look with Yves Saint Laurent products. "Katy's ethereal baby blue Ellie Saab Couture gown called for a classic polished look with a strong eye and dramatic lashes," explains Jake.

Jake Bailey Reveals Products Used:
Effet Faux Cils Longwear Cream Eyeliner #1:  We wanted a strong black doe eye Effet Faux Cils Longwear Cream Eyeliner #1 is the truest black on the market and it is 100 percent smudge proof which is key for long nights and performances.
Pure Chromatics #5: To add shimmer and dimensions I layered a deep charcoal shimmer over the liner and pale pink shimmer to highlight her brow bone.
Mascara Volume Effet Faux Cils #1: For long thick lashes I applied the equally intense Mascara Volume Effet Faux Cils over a set of Eylure lashes from Katy's new lash line.
Creme De Blush #4: I applied the Creme De Blush on the apples of her cheeks to add a bright coral glow.
Terre Sahanenne #2: To accentuate Katy's cheekbones and warm her overall complexion, I dusted on Terre Saharienne.
Rouge Pur Couture #26: I finished the look with a cool pink retro shade that complemented the pastel theme of the look and the bright color really made Katy's lips pop.
[Image: Jon Kopaloff/ FilmMagic/ Getty Images]
 
Related :  Katy Perry's VMA Minx  |  Do Blondes Really Have More Fun? Ask Katy Perry!  |  Katy Perry Partners with ghd for California Dreams Tour  |  Katy Perry's Glamorous Photoshoot with ghd  |  A Rock N' Blow Grammy Awards Weekend  |  Grammy Awards Hair: Al Yankovic