In the ever-flourishing lash and brow biz, it's crucial to keep your finger on the pulse of tool innovations that can simplify and streamline your job. "When there's a new tool to help you do something faster, more efficiently or more effectively, you should always try it out," believes Josephine Blankstein, lash artist and owner of Blankstein's Beauty & Style in Pasadena, California. "From the start of my career, I've always used the best tools to keep up with the competition, but you never know when something new will provide a better experience for clients and enhance your results." If you're looking to step up your own game, look no further. This guide presents a selection of top tools, expert advice and essential extras to instantly skyrocket your services.
Lash Lust-Haves
Lash artists, rejoice! A bumper crop of cutting edge tools and accessories ensure your fringes remain on point.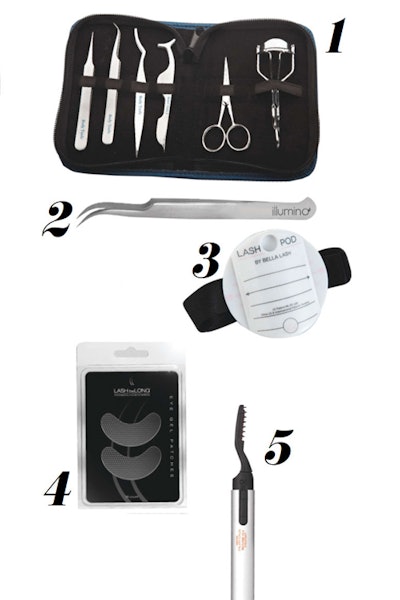 1) Body Toolz BT5095 Professional Eyelash Kit Stored in a convenient zipper case, this kit packages stainless- steel essentials for flawless lash application: Fine-Pointed Straight and Curved Tweezers, Double-End Eyelash Applicator, Grip-N-Go Eyelash Applicator, Curved Scissor and Eyelash Curler.
2) ​Illumino Lashes J-Style Tweezers 3 When working with mega-Volume lashes, the broad base of these tweezers makes grasping wide fans effortless. Bonus: A counter- balanced wing tip distributes weight evenly across your hand, lessening fatigue.
3) Bella Lash Pod Designed to be ergonomically friendly, hygienic, professional and comfortable, this accessory features a sanitizable, reusable, adhesive cup; memory foam backing; an adjustable strap; and a movable surface that rotates 360 degrees.
RELATED: 7 Hot New Mascaras for Every Lash Artist
4) LASH beLONG Moisturizing Eye Gel Pads Make clients feel comfortable during lash applications by placing these patches over the lower lash line, providing a cooling effect and decreasing puffiness for the client while offering a cushion for techs.
5) ​Chella Heated Lash Curler For girls who crave the curl, this lash curler meets the need—sans crimping, pinching or breaking. The sleek, safe and gentle heating wand delivers maximum curl where you want it without damaging eyelashes.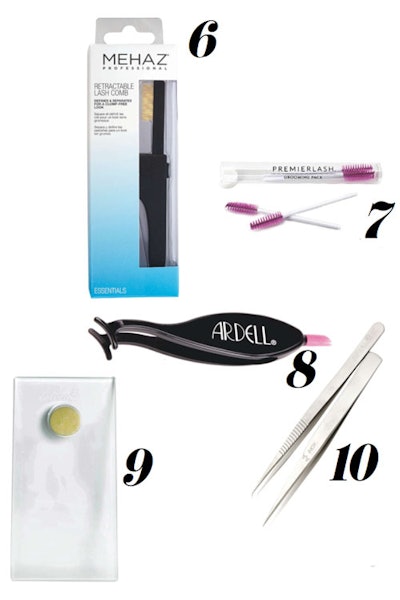 6) ​Mehaz Retractable Lash Comb Define and isolate lashes for clump-free results with this tool's precision gold-plated metal teeth (retractable to prevent damage), which glide through lashes to separate, while its wide handle provides a secure, comfortable grip.
7)​ PremierLash Grooming Pack Five full-head mascara wands, featuring soft nylon bristles to prevent snagging, are packaged in a travel container. Use them during a treatment and gift the remainder to clients, or add the packs to your retail lineup.
8) Ardell Dual Lash Applicator 8 Eliminate common application mistakes with one easy-to-use tool. The curved end securely grips and holds the lash while allowing you to position correctly; then use the angled rubber tip to gently press down and secure lashes.
RELATED: Kit Essentials - 5 New Products for Every Makeup Artist
9) ​Borboleta Beauty Glass Lash Palette This large, easy-to-clean palette with mini jade stone insert allows techs to stash lash extensions and adhesive. Featuring a heftier weight to avoid slippage, it easily fits 8 to 10 lash strips to reduce appointment time.
10) NovaLash Dumont Fine Tip Forceps Calling all control freaks! These handmade, stainless-steel Swiss forceps feature a ribbed pattern on the shank, providing a better holding surface, while fine tips allow for ease of isolation and separation of lashes and extensions.
Brow Basics
Turn your brow work into a work of art with these arch-approved service staple.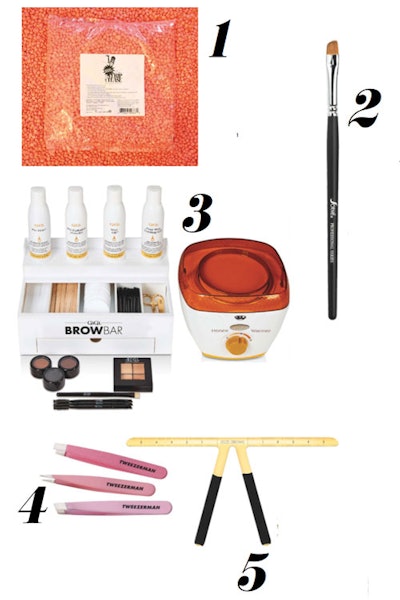 1) Boom Boom Brow Bar Strip Tease Ditch the strips! This hard wax offers maximum flexibility for hard-to-reach areas without cracking. Designed for sensitive areas, it tackles stubborn hair with reduced discomfort and irritation.
2) Sorme Brow Filler Brush Designed to work with both brow powders and pomades, this natural-hair brush helps to shape, color and define, creating a look of healthier, fuller, lusher brows with minimal time and effort.
RELATED: How to Educate Your Eyelash Clients About Preventative Care
3) GiGi Brow Bar This complete brow grooming system packs in all of the essentials needed for the ultimate brow service—think space- saving GiGi Mini Honee Warmer, pre- and post-wax solutions, tweezers, scissors, accessories and more.
4) ​Tweezerman Micro Mini Tweezer Set Good things come in small packages with this pocket-size kit. The smallest tweezers the brand has ever made—a Slant, Point and Flat Tweezer, 2 inches each—are packed in a metallic case.
5-1) Satin Smooth BROWS Kit This six-piece set includes a reusable measuring tool for brow shaping, white marking pencil, duo fill-in pencil with two shades, highlighting brow pencil, duo pencil sharpener and reusable eyebrow wand, and smudge brush applicator.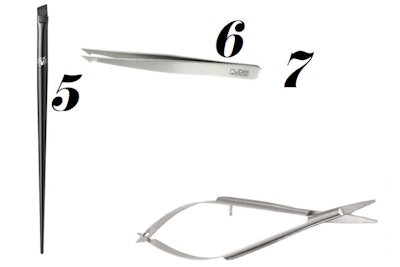 5-2) Kat Von D Beauty Powder Brow Brush #75 This custom-cut brush boasts high- quality synthetic bristles designed to pick up and blend high-pigment brow powders with ease and precision, while its distinctive combed shape creates natural-looking results.
6) Rubis 3" Two Tip Pointed/ Slanted Tweezer Precision crafted from surgical stainless steel, this must-have tweezer provides techs with two tools in one. A slanted tip eases all-purpose hair removal, while the pointed tip assists fine- hair and selective tweezing.
7) ​Qosmedix Flexi-Scissor With a textured, nonslip grip for easy use, this stainless steel tool precisely grooms brows. For convenience, it comes individually packaged in a reusable, clear PVC pouch—perfect for easy storage and travel.
Essential Extras
Ensure standout services with these add-ons and essentials that pair perfectly with lash and brow artists' standard tool kits.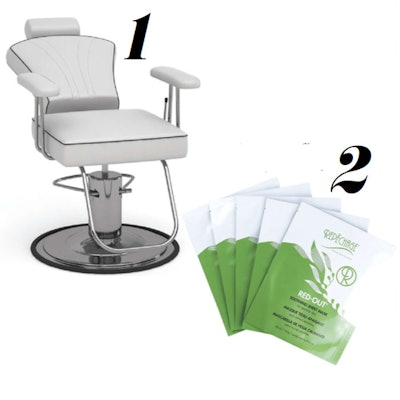 1) B​ellagio All Purpose Chair by Galaxy Designed with lash and brow pros in mind, this chair saves studio space, swivels 360 degrees, offers an adjustable headrest, and can be locked into any position and height according to the artist's preference.
2) Repêchage Red-Out Soothing Sheet Mask for Sensitive Skin Create a spa-worthy experience with this facial mask designed to reduce the appearance of redness and soothe skin with a blend of seaweed extracts and skin softeners, like allantoin and aloe.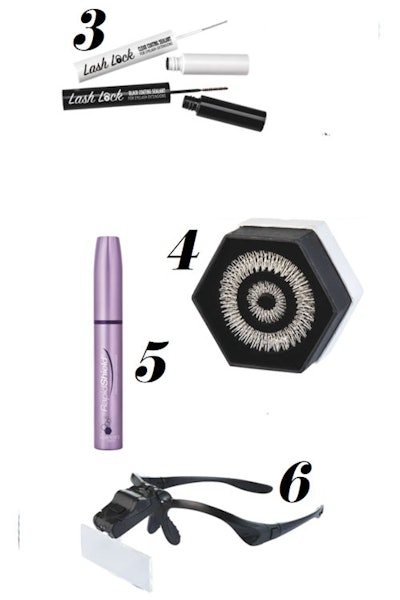 3) Glad Lash Lash Lock Specially formulated for lash extensions, this oil-free and vegan sealant prolongs lash life by creating a seal around lashes—protecting from sweat, dirt, moisture and other environmental irritants that can break down lash adhesive.
4) ​Sugarlash PRO Acupressure Ring + Bracelet Lash artists' primary tool is their hands, so it's imperative to keep them in good working order. The silver-coated spring steel ring and bracelet works with your body to reduce both physical and emotional stress to keep fingers and wrists healthy. Wear it before or after lash application.
5) ​RapidLash RapidShield Eyelash Daily Conditioner Prime and protect lashes with this daily-use beauty boost, which ensures each strand receives the nutrients needed for a natural pump up in volume and definition in two to four weeks.
6) ​Xtreme Lashes Magnifying Specs System Protect your eyes for precision application with this magnification kit, which comes with five interchangeable lenses to customize your vision needs throughout the day. Plus, the headset features two detachable LED lights for optimal brightness.
[Images:  Courtesy of manufacturers and Armando Sanchez]