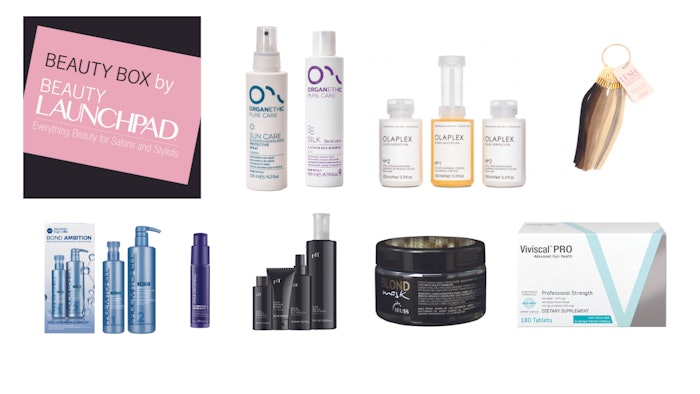 Courtesy of Manufacturers
In August 2023, Beauty Launchpad delivered a curated collection of professional beauty products from to 50 salon professionals in our Blondes Beauty Box.
Congratulations to all those that received the 2023 Beauty Launchpad's Blondes Box. The recipients who share their box on Instagram and tag Beauty Launchpad and the participating brands are entered into a giveaway for their chance to win $250.
Keep your eyes out for future Beauty Launchpad Beauty Boxes! 
Licensed salon professionals: Send your shipping information and social media handles to nramirez@allured.com for a chance to receive future Beauty Launchpad Beauty Boxes. Contact angelina@allured.com to have your professional salon products included in future boxes.
Summer is the season many clients go blonde or blonder. It is also the time we feature blonds as a theme in Beauty Launchpad, so we decided to curate this exclusive box alongside our partners HC Beauty, Paul Mitchell, Hotheads, Olaplex, Sayn Beauty, ViviscalPro and Truss to help professionals enhance and repair blonde hair. Read below to see all the products featured in the Blondes Beauty Box! 
HC Beauty
Pure Care's Sun Care Protective Spray 
Boost your blondes with this protection and correction duo. Organethic Pure Care's Sun Care Protective Spray is used to prep and preserve the hair while acting as a barrier against UV exposure, sweat, and chemicals. Formulated with tamanu oil, this treatment prevents dryness and breakage blondes may experience, especially during the summer months.
The Platinum Silk Shampoo promises maintenance and revitalization of blonde tones. It is formulated to counteract the brassiness typical of lightened hair. Additionally, the silk proteins, aloe, and chamomile extract in this product work to nourish and regenerate dry hair. Used in conjunction, these products allow blondes to maintain their cool, bright, silky tones without sacrificing hydration.
Truss
This highly potent hair mask gives extra hydration to blonde, bleached or gray hair. With violet pigments, it neutralizes and conditions orange and yellow tones. The perfect union of the Blond Mask active ingredients also restores the strength, resistance and natural flexibility of strands, leaving them softer and shinier, protecting color.
Paul Mitchell Systems
Paul Mitchell Bond Rx 2-Step Professional System
Turn any lightening or permanent hair color service into a bond-building treatment. The Bond Rx 2-Step Professional System increases revenue as an add-on service or a stand-alone treatment to strengthen and condition fragile hair. It contains patented technology, activated by heat, that targets weak and damaged bonds, crosslinking them to restore strength and resilience to the hair fiber, while ceramides restore the hydrophobic layer and seal the cuticle.
Paul Mitchell Platinum Plus Toning Drops
Instantly tone blonde, highlighted, gray or silver hair with customizable toning drops powered by concentrated purple pigments. Cool warmth and banish brass. Use several pumps until you reach the desired level of toning. Stylists and guests alike can add them to their favorite Paul Mitchell shampoo, conditioner, treatment or style for ultimate customization.
Sayn Beauty
pH Laboratories Pure Repair Botox Effect Reconstruction System
The pH Laboratories Pure Repair Botox Effect Reconstruction System is designed to restructure, plump and deeply repair chemically processed, damaged, weakened, or brittle hair. Leaving the hair feeling regenerated, strengthened and protected, this system will restore your hair to a healthy, revitalized, and manageable state
Hotheads
Nothing shines as bright as LUSH by Hotheads, a premium, luxury collection of 100% Virgin Remy Human Hair, sourced in Continental Europe. Extending way beyond luxury, this collection is packaged in eco-friendly packaging, is fully traceable and is available in up to 30" in length in Tape-In, Machine Weft, Hand-Tied Weft and Hot Fusion.
Olaplex
During every chemical service, disulfide bonds are broken and reformed to create a different color, texture or curl pattern. OLAPLEX's patented technology mitigates damage by seeking out and repairing broken disulfide bonds during the process. When used together, the two-part system allows salon professionals to push the limits of creativity while protecting the health and integrity of the hair.
ViviscalPro
Viviscal Professional Dietary Supplement
Boost the thickness and fullness of your hair with Viviscal Professional. Our 100% drug-free dietary supplement relies on an exclusive marine complex along with biotin, apple extract and vitamin C to improve thinning hair from the inside out and encourage hair growth!