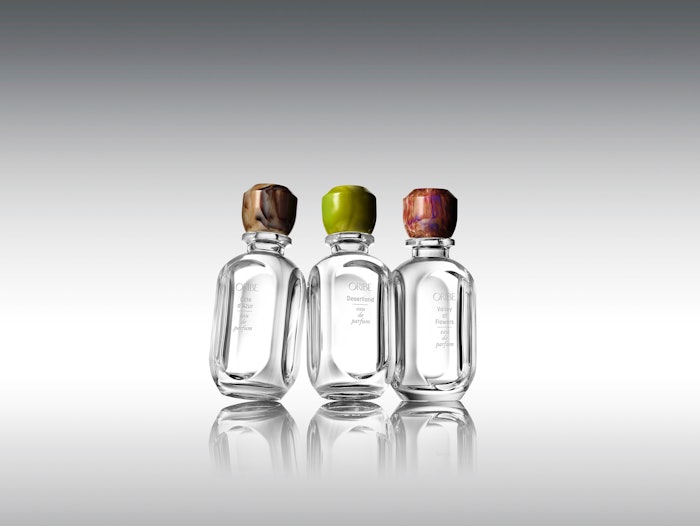 Courtesy of Oribe
Oribe is releasing a three-scent fragrance collection.
"Each fragrance was created to be unique on its own," explained Adriana Medina, vice president perfumer for Givaudan. "Côte d'Azur embodies glamour—it is clean but also warm and musky. For Desertland, Texas cedarwood captures the elegant scent of the desert at night. The heart of Valley of Flowers is Bulgarian rose, which is harvested in the morning in May and June and quickly pressed to preserve its dewy, modern freshness."
Scents in the collection include:
Côte d'Azur- Seductive and effervescently fresh, Oribe's signature scent embodies the classic glamour and heat of the French Riviera. The scent creates a sensual and invigorating experience featuring citrusy Calabrian bergamot, white butterfly jasmine, or la mariposa blanca – the Cuban national flower, a nod to Oribe Canales's heritage – and the creamy warmth of sandalwood.
Valley of Flowers- A modern interpretation of a lush floral scent, Valley of Flowers immerses the wearer in a fragrant field of fresh blooms. A harmonious blend of Bulgarian rose, peony petals and warm amber creates a dreamlike place that evokes the feeling of a morning walk through a sun-drenched garden.
Desertland- Bright, crisp notes of juniper berry, desert wildflowers and Texas cedarwood embody the essence of a blooming desert, transporting the wearer to a peaceful and powerful place. This aromatic green scent was inspired by Daniel Kaner's trip to Marfa, Texas, and captures both the sandy heat of the day and the cool vastness of the still night, a scent that only nature can produce.
The Oribe Fragrance Collection will be available online beginning August 23, 2021, and at Oribe salons and retailers nationwide beginning September 6, 2021.