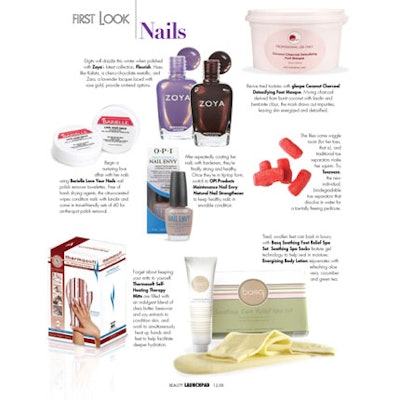 Tired, swollen feet can bask in luxury with Basq Soothing Foot Relief Spa Set. Soothing Spa Socks feature gel technology to help seal in moisture; Energizing Body Lotion rejuvenates with refreshing aloe vera, cucumber and green tea.
Digits will dazzle this winter when polished with Zoya's latest collection, Flourish. Hues like Kalista, a cherry-chocolate metallic, and Zara, a lavender lacquer laced with rose gold, provide on-trend options.
Forget about keeping your mitts to yourself. Thermasoft Self-Heating Therapy Mitts are filled with an indulgent blend of shea butter, beeswax and soy extracts to condition skin, and work to simultaneously heat up hands and feet to help facilitate deeper hydration.
After repeatedly coating her nails with hardeners, they're finally strong and healthy. Once they're in tip-top form, switch to OPI Products Maintenance Nail Envy Natural Nail Strengthener to keep healthy nails in enviable condition.
Revive tired tootsies with glospa Coconut Charcoal Detoxifying Foot Masque. Mixing charcoal derived from burnt coconut with kaolin and bentonite clays, the mask draws out impurities, leaving skin energized and detoxified.
Begin a nurturing love affair with her nails using Barielle Love Your Nails nail polish remover towelettes. Free of harsh drying agents, the citrus-scented wipes condition nails with lanolin and come in travel-friendly sets of 40 for on-the-spot polish removal.
She likes some wiggle room (for her toes, that is), and traditional toe separators make her squirm. Try Toezeeze, the new individual, biodegradable toe separators that dissolve in water for a toe-tally freeing pedicure.