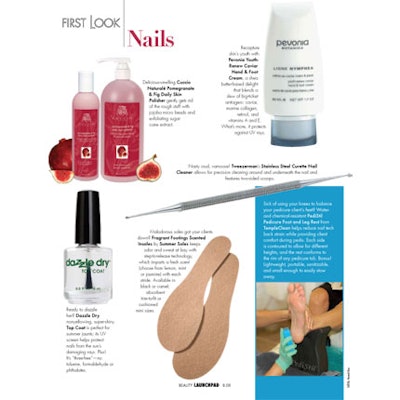 Delicious-smelling Cuccio Naturalé Pomegranate & Fig Daily Skin Polisher gently gets rid of the rough stuff with jojoba micro beads and exfoliating sugar cane extract.
Sick of using your knees to balance your pedicure client's feet? Water- and chemical-resistant PediStil Pedicure Foot and Leg Rest from TempleClean helps reduce nail tech back strain while providing client comfort during pedis. Each side is contoured to allow for different heights, and the rest conforms to the rim of any pedicure tub. Bonus! Lightweight, portable, sanitizable, and small enough to easily stow away.
Ready to dazzle her? Dazzle Dry nonyellowing, super-shiny Top Coat is perfect for summer jaunts; its UV screen helps protect nails from the sun's damaging rays. Plus! It's "three-free"—no toluene, formaldehyde or phthalates.
Malodorous soles got your clients down? Fragrant Footings Scented Insoles by Summer Soles keeps odor and sweat at bay with step-to-release technology, which imparts a fresh scent (choose from lemon, mint or jasmine) with each stride. Available in black or camel; absorbent trim-to-fit or cushioned mini sizes.
Nasty crud, vamoose! Tweezerman's Stainless Steel Curette Nail Cleaner allows for precision cleaning around and underneath the nail and features two-sided scoops.
Recapture skin's youth with Pevonia Youth-Renew Caviar Hand & Foot Cream, a shea butter-based delight that blends a slew of big-ticket antiagers: caviar, marine collagen, retinol, and vitamins A and E. What's more, it protects against UV rays.