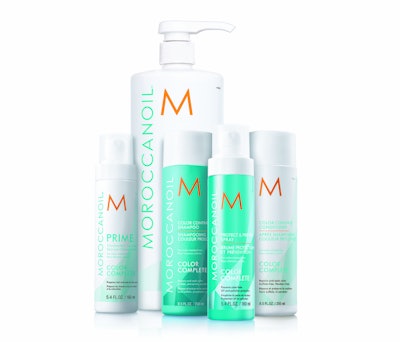 The new Moroccanoil Color Complete line can extend the life of color by 100 percent. 
​If you're a devotee of the iconic argan oil-centric Moroccanoil brand and wondered, "When will it offer color care?" get ready to celebrate: The company unveiled Color Complete, a collection of five products that addresses hair integrity during and after haircolor services—a 360-degree approach that ensures health and vibrancy from the colorist's sink all the way to the client's daily life. Where Moroccanoil co-founder Carmen Tal and vice president of Global Product Development and R&D Lavina Popescu see Color Complete differing from other color care regimens on the market is its ability to combat all daily sources of color degradation, which include oxidation, heat styling, mechanical damage (think: brushing) and chemical damage. "We realized if we want to deliver strong benefits to colored hair we need to offer a regimen. Why? The reality of the hair fiber is it's a dead fiber. It's not enough to repair it one time. You need to repair it every time you brush, you wash, you walk outside because hair simply doesn't have the capability to protect and restore on its own," says Popescu.
One of the proprietary technologies found in all five products that facilitates this restoration and protection, ArganID, naturally includes the brand's beloved argan oil, and uses ionic attraction to push the oil deep into the cortex while simultaneously repairing and sealing the cuticle to lock in pigments for maximum color retention. 
The Color Complete line includes two back-bar products, pre-color Chromatech Prime to calm the scalp and equalize porosity (a request from hairstylists, says Popescu) and after-color Chromatech Post to seal in color. An at-home regimen of three products, Color Continue Shampoo and Conditioner and Protect & Prevent Spray, works synergistically to combat color degradation and, the company claims, can extend color vibrancy and longevity by 100 percent after 10 washes.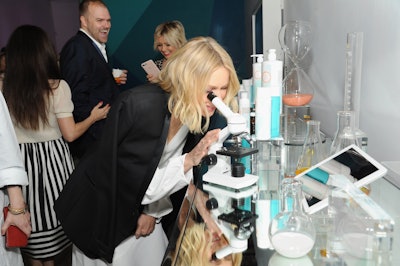 To coincide with the launch of Color Complete, Moroccanoil named Lorri Goddard as its newest Celebrity Colorist. Goddard, who counts A-listers like Reese Witherspoon and Charlize Theron among her clients, is ready to spread the Color Complete word. "It has completely transformed my color services. I love a good change in haircolor, but it's so important to make sure that you don't sacrifice the health of your hair doing so!" she exclaims, noting that Protect & Prevent Spray is a daily must-have for anyone looking to prevent color fade and dreaded brassiness.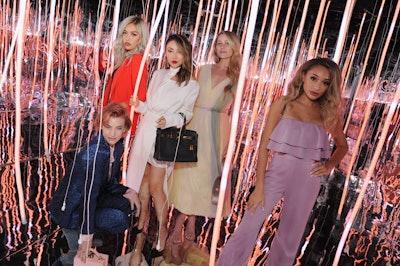 Also ready to bring Color Complete to the masses: the Moroccanoil Color Collective, a group of five influencers that includes Blair Eadie (@blaireadiebee) and Jessica Wang (@notjessfashion), who were on hand at the Manhattan launch event to show off their gorgeously hued locks to onlookers—the first of many of their efforts to exemplify how Color Complete encourage healthy, glam haircolor. 
For Tal, this launch has been a long time coming. "It's been 10 years since we came up with Moroccanoil Treatment, which truly revolutionized the industry. Ten years later, we're introducing a line with amazing technology that I believe will be helping women around the world color their hair healthily—because that is what we do!" Tal exclaims, adding, "Women like to change their look and color with their mood and emotions." Now, they can do so without damage. 
Images: Craig Barritt/Getty Images