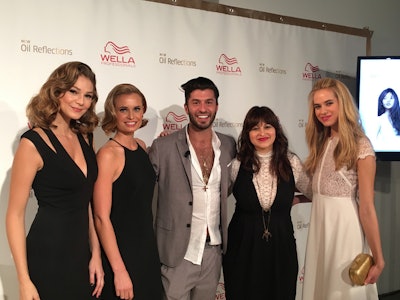 Earlier this week, NYC beauty editors got a sneak-peek at Wella Professional's upcoming Oil Reflections collection, which includes a shampoo, conditioner, mask, two hair oils and an in-salon treatment, all inspired by Wella best-selling Oil Reflections hair oil.
The precious oil collection, infused with camellia oil and white tea extract, uses Oleology technology to protect lipids and seal the cuticle, resulting in 3 times smoother locks and instant luminosity. "The whole line goes in harmony with hair color and helps us as hair colorists," explains Wella Top Artist Alexandra Matiz. "When the lipid layer is protected and nourished, the cuticle won't come off — it keeps it nice and sealed."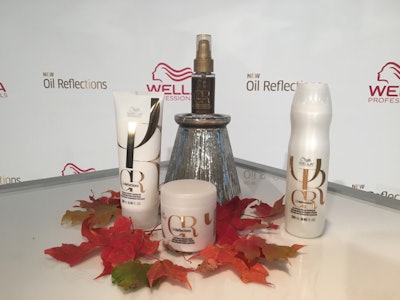 The oils work in multiple ways: They can be used to set hair before cutting, post washing, as a leave-in finisher and to polish ends. For clients with fine-to-normal hair who may be afraid of oil weighing down their locks, Light Luminous Reflective Oil tames frizziness and smoothes tresses while lending them a subtle shine. While tried-and-true Luminous Smoothening Oil is slightly heavier, it works for all hair types, offering the same benefits as the lighter oil with optimum shine. Luminous Reveal Shampoo deeply cleanses tresses while Luminous Instant Conditioner locks in moisture in a mere 30 seconds. "Thirty seconds is all you need to replenish the hair," explains Matiz. For added hair structure repair, Luminous Reboost Mask works in 5 to 10 minutes to restore moisture. "It brings color damaged, thirsty and curly hair back to life," says Matiz. The in-salon treatment, Luminous Magnifying Elixir, can be added onto any service as a 10-minute express treatment or as a longer treatment in conjunction with the mask or before highlights to nourish and repair locks while offering 72 hours of frizz-free shine. "It repairs the lipid/cuticle layer so whether used before or after coloring hair, color will last longer, will look better and will reflect the hair color more," says Matiz. Bonus: The collection's peach, jasmine, cedar wood and vanilla aroma, inspired by the white sand dunes of Southeast Asia, is soft yet luxurious.
To demonstrate the new line, Matisse colored models' locks while Wella Celebrity Ambassador Andy LeCompte coiffed and styled tresses to emulate red carpet looks he created for mega celebs. Think: Madonna's Vanity Fair Oscar Party Marilyn Monroe-inspired look, Jennifer Connelly's Grace Kelly moment at an international film festival and Rachel McAdams' Brigitte Bardot/Catherine Deneuve design at the Cannes Film Festival.
"Oil is my No.1 hero product!" says LeCompte. "It's something I use to get a lot of shine and luminosity on the red carpet. It's always been my go-to product to nourish hair as well. All my clients want luxurious, shiny, soft, touchable hair that holds up and looks great on the red carpet." Oil also works to boost and plump hair, giving it volume, LeCompte adds. "Don't be afraid of oil as oil is what your hair wants — it's thirsty!"