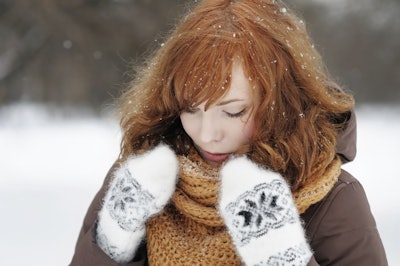 Winter is one of the harshest times of the year for your clients' hair. Cold, dry air and excessive use of heaters indoors can lead to breakage, dryness and damaged strands. Help your client protect her hair from the elements and stay gorgeous all year round with these 6 tips from renowned stylist Peter Lamas:
Advise your clients to step up the moisture in their hair care routine. Tell them to ditch their regular shampoo and conditioner in favor of something richer, like Peter Lamas Baobab Oil Hydrating Shampoo & Conditioner. It contains an ultra-luxe blend of oils (Baobab oil, Avocado oil and Safflower oil) for serious hydration.
Recommend that your clients make time for a mask. Using a deep-conditioning, oil-based hair mask - like the Youth Revival 5 Oil Hair Treatment Mask - 2 times per week can boost hair's health and moisture. Since oil repels water, an oil-based mask will be able to penetrate the hair shaft without getting watered down and will provide maximum benefits. Tell your clients to apply a mask to dry hair and let sit for at least 20 minutes before showering.
Your clients are what they eat! Advise them to boost their intake of healthy oils and foods that contain omega fatty acids – salmon, avocado, nuts – to help nourish hair from the inside out.
Cover up - not only will wearing a hat or scarf keep your clients warm, it also shields hair from frigid wind, rain or snow and prevents damage.
Advise your clients to put down the hot tools. If cutting down their use of hot tools is not an option, a protective oil to hydrate hair and minimize heat damage is a must. Try Peter Lamas Youth Revival Hair Oil - the unique formula provides weightless hydration that increases hair's elasticity to decrease breakage, smooth frizz, boost shine and leave your clients with hair that feels silky and smooth.
Tell your clients to steer clear of sulfates. As sulfates strip hair of its natural oils, they should avoid hair care products with sulfates or harsh chemicals that can dry their hair out.