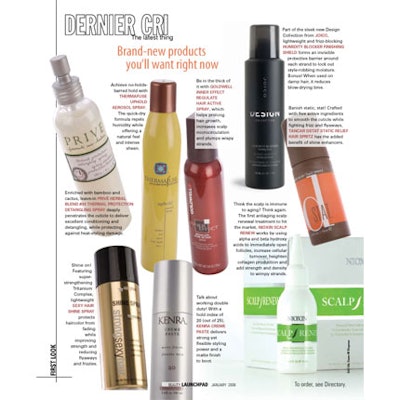 Achieve no-holds-barred hold with ThermaFuse Uphold Aerosol Spray. The quick-dry formula repels humidity while offering a natural feel and intense sheen.
Shine on! Featuring super-strengthening Tritanium Complex, lightweight Sexy Hair Shine Spray protects haircolor from fading while improving strength and reducing flyaways and frizzies.

Think the scalp is immune to aging? Think again. The first antiaging scalp renewal treatment to hit the market, Nioxin Scalp Renew works by using alpha and beta hydroxy acids to immediately open follicles, increase cellular turnover, heighten collagen production and add strength and density to wimpy strands.
Part of the sleek new Design Collection from Joico, lightweight and frizz-blocking Humidity Blocker Finishing Shield forms an invisible protective barrier around each strand to lock out style-robbing moisture. Bonus! When used on damp hair, it reduces blow-drying time.
Banish static, stat! Crafted with five active ingredients to smooth the cuticle while fighting frizz and flyaways, Tancar dStat Static Relief Hair Spritz has the added benefit of shine enhancers.
Enriched with bamboo and cactus, leave-in Privé Herbal Blend #30 Thermal Protection Detangling Spray deeply penetrates the cuticle to deliver excellent conditioning and detangling, while protecting against heat-styling damage.
Talk about working double duty! With a hold index of 20 (out of 25), Kenra Creme Paste delivers strong yet flexible styling power and a matte finish to boot.
Be in the thick of it with Goldwell Inner Effect Regulate Hair Active Spray, which helps prolong hair growth, increases scalp microcirculation and plumps wispy strands.