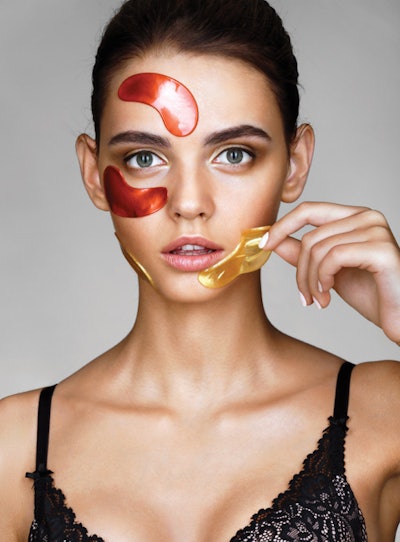 When you go in for that last pluck or to adhere that final Volume fan, you're effectively playing up one of your client's most prized facial possessions: her eyes. So, why wouldn't you encourage her to take the utmost care of the real estate around her eyes—her skin? A slew of eye treatment products flood the market every year, all addressing different needs that are certain to appeal to each and every one of your clients. Here, we show- case some of the best that you can either use as a complement to your services or retail for at-home maintenance so she can keep her eyes looking bright and beautiful out in the world—all the better to show off your artistry. 
Easy Eye Masks
1) Pop on the Borgehese Restorative Eye Sheet Mask under her lower lash line; it boasts a host of anti-aging ingredients, such as caffeine to boost skin elasticity and açai and avocado fruit extracts to firm and soothe. 
2) The mix of seaweeds in Elemis Pro-Collagen Hydra-Gel Eye Masks moisturizes delicate skin while plankton extract helps stretch the underlying collagen network, which provides an instantaneous skin-tightening effect. 
3) A perfect way to refresh and relax clients, the Repêchage Eye Rescue Pads wake up the eye 1 area with a blend of seaweed, cucumber and potent tea extracts. 
4) Rather than coming presoaked, the SAIAN ActiveCell Instantly Activated Collagen + Stem Cell Eye Pads require the user dispenses the hyaluronic acid- infused formula onto the pads just prior to application. About that formula: It contains serious skin ingredients, including Swiss Apple Stem Cells, that work to slow aging on a cellular level. 
Smart Rollerballs
1) Kombucha, the star ingredient of roll-on emerginC Scientic Organics Eyelight Serum, does it all: hydrates and corrects skin's pH balance, tightens pores, soothes skin, and acts as a natural antibacterial agent. 
2) De-creping skin with hyaluronic acid is just one of Pevonia EyeRenew Conceal & De-Age Treatment's tricks; it also contains a hint of tint to blend away dark circles and redness.
3) Cooling to the touch, Dermalogica Stress Positive Eye Lift treatment- masque hybrid instantly brightens the eye area as it reduces the appearance of dark circles and pufness.
Light-Weight Formulas
1) The three polypeptides—Matrixyl 3000, Dermaxyl and Argireline—in Environ Youth EssentiA Vita- Peptide Eye Gel are scientically proven to help reduce the appearance of fine lines and wrinkles.
2) Big on hyaluronic acid's moisture- retaining and hydration-delivering benets, Hyalogic Episilk Dark Circle Lightening Face Serum adds dark circle-erasing qualities as well as skin smoothing to its formula.
3) Murad Retinol Youth Eye Serum is a true triple threat: It contains three types of retinol technologies, which means it can more quickly deliver visible results (read: evening skin tone and minimizing fine lines and wrinkles) while remaining gentle on skin. 
4) Tired eyes plagued by puffiness, dark circles and milia benet from mint-infused Yon-Ka Paris Phyto- Contour, which utilizes rosemary to drain, firm and tone the eye area. 
5) Six ingredients—among them antiaging powerhouse retinol and moisturizing shea butter—in RapidEye Firming Wrinkle Smoother work together to instantly hydrate and refine crepe-y skin texture while delivering long-term firming. 
[Image: Getty Images]