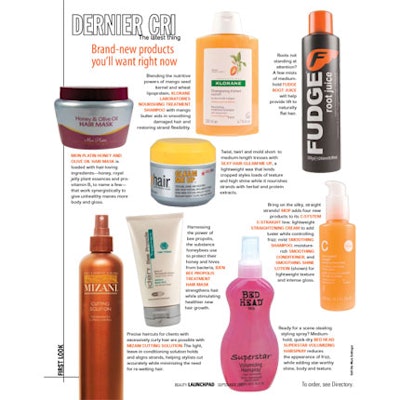 Ready for a scene-stealing styling spray? Medium-hold, quick-dry Bed Head SuperStar Volumizing HairSpray reduces the appearance of frizz, while adding star-worthy shine, body and texture.
Bring on the silky, straight strands! MOP adds four new products to its C-System C-Straight line: lightweight Straightening Cream to add luster while controlling frizz; mild Smoothing Shampoo; moisture-rich Smoothing Conditioner; and Smoothing Shine Lotion (shown) for lightweight texture and intense gloss.
Blending the nutritive powers of mango seed kernel and wheat lipoprotein, Klorane Laboratories Nourishing Treatment Shampoo with mango butter aids in smoothing damaged hair and restoring strand flexibility.
Roots not standing at attention? A few mists of medium-hold Fudge Root Juice will help provide lift to naturally flat hair.
Precise haircuts for clients with excessively curly hair are possible with Mizani Cutting Solution. The light, leave-in conditioning solution holds and aligns strands, helping stylists cut accurately while minimizing the need for re-wetting hair.
Mon Platin Honey and Olive Oil Hair Mask is loaded with hair-loving ingredients—honey, royal jelly plant essences and pro-vitamin B5 to name a few—that work synergistically to give unhealthy manes more body and gloss.
Harnessing the power of bee propolis, the substance honeybees use to protect their honey and hives from bacteria, Iden Bee Propolis Treatment Hair Mask strengthens hair while stimulating healthier new hair growth.
Twist, twirl and mold short- to medium-length tresses with Sexy Hair Gleam Me Up, a lightweight wax that lends cropped styles loads of texture and high shine while it nourishes strands with herbal and protein extracts.