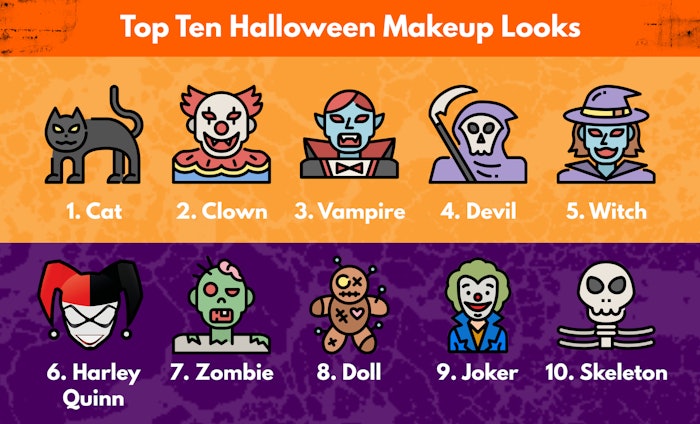 courtesy of Tajmeeli
According to Tajmeeli, a cosmetic surgery advice site, there are a few easy Halloween looks and types of makeup that are highly trending this year. 
The site's data shows that Halloween partygoers have been planning their makeup looks since August, almost two months in advance! Searches for "Halloween makeup ideas" are up 300 percent, with demand for "Halloween makeup" up 150 percent. 
10 Most Popular Halloween Makeup Styles for 2022, Based on Global Yearly Searches:
Easy Halloween makeup (276,000 searches)
Simple Halloween makeup (156,000)

Halloween eye makeup (111,600)

Scary Halloween makeup (96,000)

Cute Halloween makeup (87,600)

Pretty Halloween makeup (60,000)

Sexy Halloween makeup (34,800)

Cool Halloween makeup (26,400)

Half face Halloween makeup (25,200)

Last minute Halloween makeup (24,000)
"Cat makeup" is the most-searched Halloween look, Googled 91,200 times globally in an average year. In second place is "clown makeup" with 79,200 searches, and "vampire makeup" follows in third place with 64,800 searches.
All of these looks are relatively simple to do, tying into the demand for an easy Halloween makeup look.