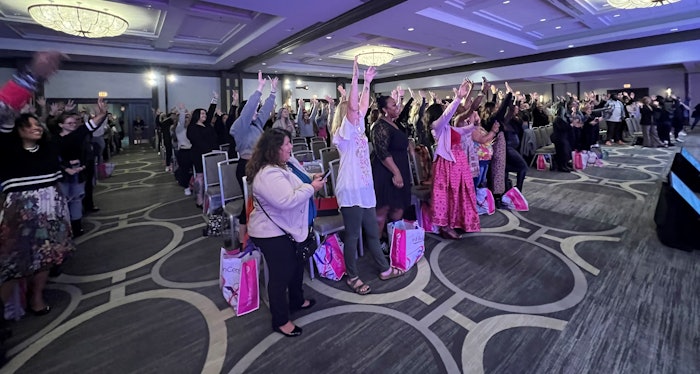 Beauty with a Purpose held their educational event on Sunday, Sept. 17, 2023 in Oak Brook, IL. 
The event, presented by Daisie Foundation and Pink Pewter Foundation, featured panelists from across the beauty industry sharing their achievements, failures and peaks and valleys, in a straightforward, dynamic and no-nonsense way.
If you weren't able to attend, here's a look at the schedule of events for the day. 
The event started with a high-energy kick-off from Julie Hightower, founding Board member of the Daisie Foundation, and Mireya Villarreal, founder of the Pink Pewter Foundation.
Then, Ben Mollin from The Ben Mollin Project (@thebenmollinproject) shared his insight for developing a warrior mindset and over-coming self doubt. During his speech, Ben Mollin encouraged the audience to shout, "I am beautiful. I am fearless. I am strong," at increasing volumes. You can see the captivating moment below. 
Afterwards, award-winning filmmaker Denise Soler Cox (@projectenye), discussed the magic of belonging in the beauty industry. 
The Ulta Beauty Pro Team took the stage for the first panel of the day. The panel featured Anna Manukyan (@amanukyan), Senior Director of Education and Creative at Ulta Beauty and a Certified Financial Educator; Danielle Keasling (@danielle.keasling), an influential and dedicated hairstylist who has earned the title of 2021 North American Editorial Hairstylist of the Year; and Michelle O'Connor (@michelleoconnorbeauty), a Global Artistic Director at Matrix Education and NAHA Award Winner in 2020 in the Category of Styling and Finishing. Moderated by Kelly Ehlers (@readthetease), founder and president of the Evoke Agency and the Tease Media, the panel covered a diverse array of topics, spanning business acumen, financial matters, career guidance and strategic approaches to the beauty industry. 
The next panel featured an all-star lineup of leaders in the beauty industry, as they discussed how they acquired and developed their beauty blueprint. Moderated by celebrity stylist Johnny Wright (@johnnywright220), the panel featured Dana Fountain (@msdana4hair), a successful beauty entrepreneur, beauty advocate and industry influencer; Kim Roxie (@thekimroxie), founder and CEO of Lamik Beauty; Lynzie Smith (@common.wealth.co) founder and CEO of the Common Wealth; and Jenny Strebe, founder and CEO of AIIR Professional (@theconfessionsofahairstylist).
During a lunch break, Dr. Elizabeth Kiracofe (@drkiracofemd) gave a presentation on how hairstylists can care for their skin, using CeraVe. 
After the lunch, L'Oréal Professionnel Ambassador Adina Pignatare (@adina_pignatare) shared social media tips, including how to pose clients for before and after photos and tools to use to create the best social media content. 
Then, Corey Gray and Tony Stuart from Hairdustry hosted a live taping of their "Your Day Off" podcast, featuring an exceptional panel of leading barbers who shared their pathways to achievement. The panelist included Taylor Leven (@badgirltaytay_), owner of Headspace; Larry Roberts (@larrysbarbercollege), founder of Larry's Barber College; John Mosley (@popular_nobody), NAHA 2022 Educator of the Year; and Jesse (Kirby) Perez Gil (@kirby_hairartisan), founder of Artisan Hair Solidarity. 
Perez Gil returned for the next panel "The Science of Haircare & Hair Conditions" with Missy Peterson (@missypetersonhair), certified clinical trichologist and Malibu C Senior Global Educator; Monaè Everett (@monaeartistry), celebrity hairstylist and diversity, equity and inclusion consultant; and Christopher Aaron (@christopheraaronstudio), L'ANZA Healing Haircare artist. The panel was moderated by Kiracofe, who helped answer common questions about scalp health. 
The last panel of the day featured a lineup of executive leaders in the beauty industry who shared their wisdom. Moderated by Radio and TV talent Bioncé Foxx (@bioncefoxx), the panel featured Frank Fulco (@americasbeautyshow), CEO of America's Beauty Show by Cosmetologists Chicago; Kareema Wilson (@saloncentric), Vice President of Diversity, Equity and Inclusion at SalonCentric; Denine Pappalardo (@benefitcosmetics), SVP of Sales and Education at Benefit Cosmetics; and Nick Stenson, SVP of Stores and Service Operations at Ulta Beauty (@nickstenson). 
The event concluded with a presentation of scholarships and grants from Villareal and Hightower. 
You can follow Beauty Gives Back Foundation on Instagram for more updates on future events.