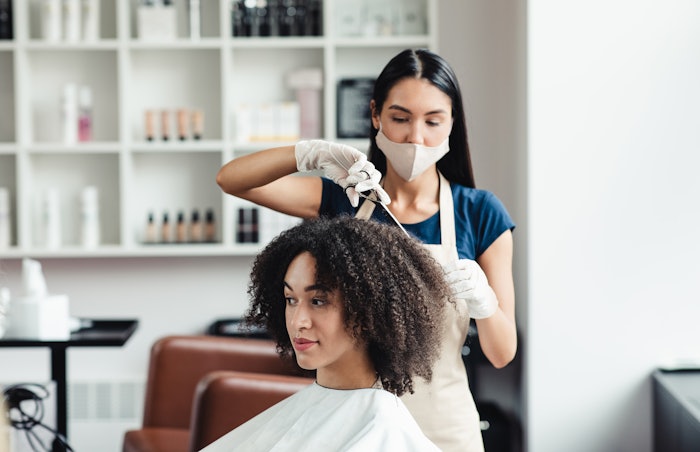 The Texture VS Race Summit is heading to Baltimore, November 27-29, 2022, and will address how the salon industry can leave stylists better prepared to work on texturally and culturally diverse clientele. 
The Summit is hosted by Summit founder, salon industry DEI consultant and color educator Keya Neal.
Neal and other educators will lead sessions on cutting, coloring and styling all hair textures. Attendees will also receive DEI training that will prepare them to interact with and serve a rapidly diversifying clientele and culture. 
Attendees will learn how to identify and work with hair as a fabric by understanding its unique properties. 
"It begins in the schools. Stylists receive little to no education on how to work on curly, coily or natural hair," says Keya Neal, Texture VS Race founder. "Instead, our education primarily focuses on techniques for straight, finer hair. Undereducated stylists or colorists who cannot work with textured hair shy away from it because of their lack of knowledge. This cycle perpetuates the notion that curly and highly textured hair is 'hard to work with' and reinforces racial stereotypes surrounding hair. This ultimately leads to clients being turned away simply because of the hair that grows out of their heads. That's not the client's fault! These are all signs that the institution failed these students."
Attendees will learn different skills:
Colorists will learn how to formulate for highly melanated and textured hair, explore the nuances of tone and toners, and be taught proper placement techniques for all textures.
Stylists will learn the basics of natural styles and explore product use for natural hair.
Cutters will learn techniques to accentuate and complement curly textures.
All techniques will be practiced on mannequins during hands-on demonstrations, with a Texture VS Race collaborative coach to assist and instruct attendees.