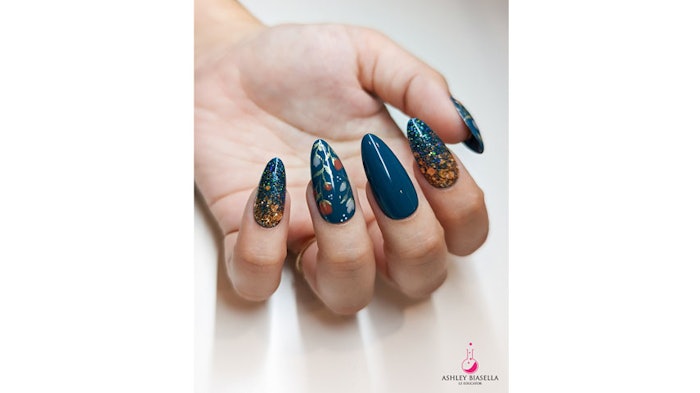 Courtesy of @badash_nails
Ashley Biasella, nail artist and

Light Elegance
educator has created a fall floral how-to.
Her design was inspired by the fall 2022 collection from Light Elegance, The WhoDunIt?
Get the Look 
Apply two coats of a jewel-toned, blue-green color. 
Using a swirly brush and a circular motion, apply a medium gray color in small flower patterns, and cure.
Using the same method as Step 2, apply a red brick color in the open spaces, and cure. 
Using the swirly brush and a gold UV/LED color gel, apply vines and leaves, creating petals up and around the flowers with varying pressure of your brush.
Using white gel paint and a needle point stylus, add small dots to highlight the spaces that are left.
Top with a UV/LED top coat, cure and cleanse.