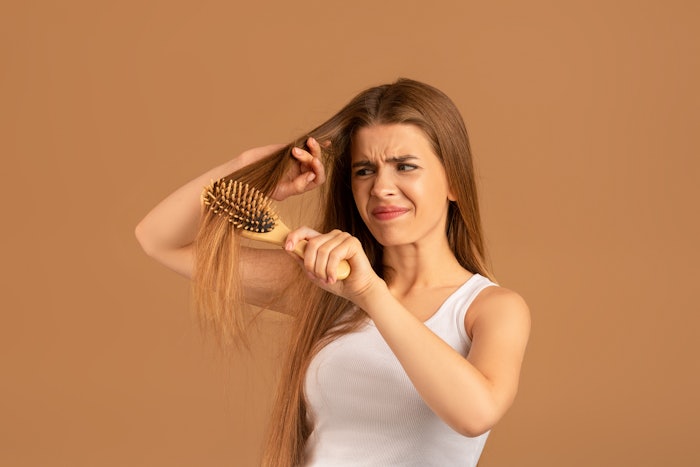 Nothing is worse than frizzy hair. 
As summer heats up, hair frizz may be a common trouble for your clients. If you are looking for expert advice on how to fight frizz, look no further.
Below, three hair experts share their insight on what causes frizz, how to fight it and what products they recommend to keep hair looking gorgeous all summer long.
What are some common reasons that frizz can occur in the hair?
Garren, Celebrity Stylist and Co-Founder of R+Co (@garrennewyork): It really depends on the client and the condition and damage of their hair. When you wear the hair down in a certain type of weather, the shape of the cuticle changes. When your hair is frizzy, it's caused by your cuticle being wide open, and happens most commonly in humid conditions. If your hair is naturally curly and frizzy, this will only intensify in more humid weather.
Dr. Iris Rubin, Dermatologist and Founder of SEEN (@seenskinandhair): Frizz occurs when the hair absorbs moisture (humidity) in the air, which causes the hairs' outermost layer (the cuticle) to swell and expand instead of lying flat. In strong, healthy hair, the hairs' cuticles lie flat and slightly overlap like shingles on a roof. Frizz is more likely when there are gaps between "the shingles" since this allows environmental moisture to enter the hair shaft. Frizz can affect all hair types and textures; however, dry and damaged hair is especially prone to frizz because the cuticles are already compromised. Curly hair may have more pronounced frizz since it's more challenging to get all of the hairs to align in the same direction.
Franck Izquierdo, Co-founder of IGK Hair Care (@franckhair): Hair gets frizzy when the outermost layer of the hair, called the cuticle, lifts. This allows for moisture and other environmental factors to seep in, swelling up the hair shaft and making it thick and frizzy. There are a few culprits that can contribute to a raised, non-flat cuticle, thus creating frizz. Among them include hair dryness, damage, humidity and friction.
What are some hair care tips stylists can share with their clients to help fight frizz at home?
G: Be sure to evenly apply product on hair from roots to ends. Apply PINSTRIPE Intense Detangling Spray, which will detangle and ensure that the entire hair shaft will be even. When blow drying the hair, use a large, round bristle brush and blow dry the hair downward while simultaneously turning the brush.
IR: Fighting frizz starts in the shower, so you want to make sure you're using a sulfate-free shampoo that won't strip the hair of its essential moisture. If your hair is frizzy, leaving your conditioner in for a few minutes before rinsing can help to maximize moisture. Using a microfiber towel can be helpful as well. When styling, opt for a product that helps smooth your strands while protecting the hair from heat. (I love to cocktail SEEN Blow-Out Creme and Magic Serum.) If you still need a little extra frizz-smoothing after styling, SEEN Magic Serum can be used on dry hair as a finishing touch as well. Sleeping on a silk pillowcase can help minimize friction that can contribute to frizz as well.
FI: Hair types that are more prone to frizz tend to be dryer in nature, so hydration is important. A good shampoo and conditioner is a must for frizzy hair. IGK's Good Behavior Ultra Smooth Shampoo and Conditioner is a smoothing duo that helps reduce frizz and flyaways while promoting shine and manageability. It contains Spirulina Protein and seven Smoothing Oils for smoother hair after one use!  You will also want to educate clients on things like using a wide-toothed comb instead of a brush when the hair is wet, avoiding excessive brushing and using satin or silk pillowcases.
What are ingredients that are good for fighting frizz that both stylists and their clients should look out for?
G: Natural oils help maintain hydration while nourishing strands. Vegan protein, in small amounts, helps keep the cuticles sealed and hold moisture for longer in the hair. In styling products, clean styling polymers help prevent frizz in humid conditions while adding shine and to maintain your style all day.
IR: Many frizz-fighting products are formulated with silicone, which can potentially cause build-up on the scalp and hair. Silicones may also contribute to clogged pores since they are occlusive and can trap other pore clogging ingredients on the skin. Instead of silicone, SEEN uses a plant sugar-derived ingredient called hemisqualane (c13-15 alkane) that provides all of the frizz-fighting benefits without any of the downsides. Squalane is also wonderful for adding extra moisture and shine to the hair.
FI: Hydrating ingredients are really important when trying to avoid frizz. Hyaluronic acid, coconut oil and shea butter are really helpful, so look out for those when choosing a product. IGK's Good Behavior Collection is formulated with Innovative Bonding Polymers that mimic the frizz-free, high-shine coating of a keratin treatment when activated by heat, so it's always a recommendation I give to my clients with frizzy hair. 
What are products you would recommend to fight frizziness?
G: Start with a shampoo and conditioner like BEL AIR Smoothing Shampoo and Conditioner or ATLANTIS Moisturizing Shampoo and Conditioner, which will calm the hair down. Follow with a styling aid like PARK AVE Blow Out Balm and blow dry the hair down the hair shaft – otherwise you'll be going against the grain, making the ends explode. I also recommend F-Layer Deep Conditioning Serum because the traceless serum can help to replenish the all-important F-layer: the protective lipid layer that locks in moisture and gives hair its natural smoothness, prevents friz, and adds shine. Plus, it weightlessly hydrates, repairs, and preps hair for styling thanks to vitamin- and mineral-rich Fruit Water Extracts and the nourishing Oil Botanical Blend. To tame frizz, WATERFALL Moisture + Shine Lotion can be applied to dry hair – you can work it through the hair and it will tone down the fuzz or dryness. Finally, using a little bit of R+Co BLEU Daily Forecast Finishing Spray at the end will also help diminish and prevent frizz.
IR: SEEN Magic Serum is my favorite because it instantly makes the hair softer, smoother and shinier while taming frizz (without silicone). This fragrance-free, non-comedogenic, non-irritating serum has also been proven to reduce breakage after just one use! When used as a regimen, SEEN Shampoo, Conditioner, and Blow-Out Creme reduce frizz by 74% at 80% relative humidity—and maintain a 65% reduction in frizz 8 hours after styling.
FI: Our new Good Behavior Ultra Smooth Shampoo and Conditioner are the first step to block frizz before it forms in the shower. Good Behavior 4-in-1 Prep Spray is a must for frizz-prone hair. It serves as a multi-tasking priming spray to detangle, protect against heat, control frizz and enhance shine. Good Behavior Spirulina Protein Smoothing Blowout Balm works best for thick hair. It will give a super smooth finish. The Good Behavior Spirulina Protein Smoothing Spray works best for finer textures with a lighter finish that is sleek and shiny.