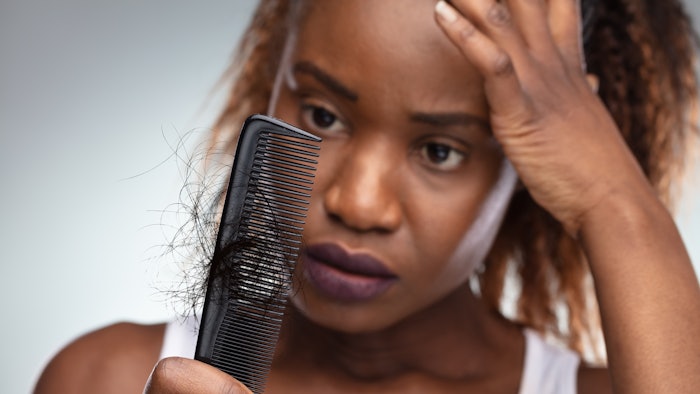 Dreamstime
Hair shedding can be both scary and frustrating for those who are experiencing it.  
Ashley Brown, Sam Villa ambassador and Mizani artist, shares four reasons for unexpected hair loss, as well as potential solutions:
1. COVID-19: Having COVID-19 can stress the body physically and emotionally, which can put hair in what physicians call acute telogen effluvium. As a result, upwards of 30 to 50 percent of hair follicles are in the telogen stage (the stage of growth when hair falls out and regenerates).
Solution: It can take anywhere from 6 to 18 months for hair to completely grow back in. During the regrowth period, it's important to be gentle with the hair, so avoid hairstyles that create tension as well as chemical services.
2. Drastic Change in Diet: If there is a drastic change in diet that reduces nutritional intake, the body will pull proteins and nutrition that would usually support hair and begin to use them for organs and muscle tissue. This can leave hair to grow weak and brittle, and make skin dry. 
Solution: Make a gradual plan to implement diet change, to give the body more time to adapt to the change. And plan meals to ensure you are getting enough and a good balance of nutrients. In addition, high doses of vitamins and supplements can sometimes help to replace what the body is lacking. 
3. Low Iron: When your body does not have enough Iron, it cannot produce hemoglobin in the blood. Hemoglobin carries oxygen for the growth and repair of cells, including those that stimulate hair growth. Many things can cause low iron levels, such as pregnancy, an iron-deficient diet, anemia, loss of blood, and vigorous exercise, to name a few. 
Solution: Consult with a physician to determine the root of the iron deficiency. Sometimes it can be as simple as adjusting the diet to include more iron-rich foods, such as leafy greens and meat. In other instances, a supplement or even infusions may be recommended to improve iron levels. 
4. Change in Hormones: Men and women alike can experience an imbalance of hormones that can lead to hair thinning and/or hair loss caused by menopause, thyroid issues, autoimmune conditions and stress. 
Solution: Consult with a physician to determine the root of the hormonal issues. Treatment ranges depending on the issue.