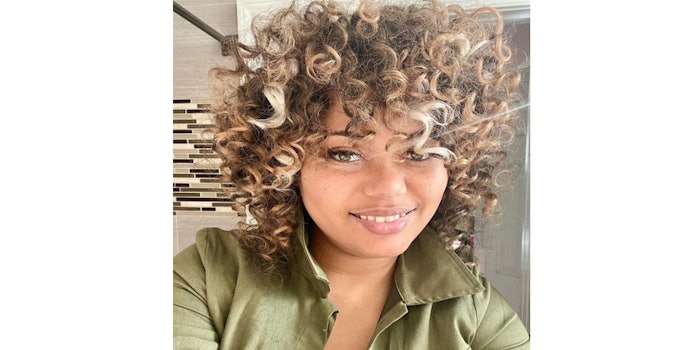 Courtesy of @mjcolorsme
Beauty Launchpad and NAILPRO have announced Beauty Go Pro Show, their first joint digital event, from Oct. 24–27, 2021.
Beauty Go Pro Show will bring the best salon techniques, business advice, trends, product information and networking to beauty professionals.
Event speaker Mecca Jones of Olivia Garden will provide professional tips on how to effectively blow out natural hair.
Here, Jones shares best practices on caring for natural hair textures, which are typically very fragile and more susceptible to damage. Therefore, it is very important to be mindful of how you care for textured hair.
Check out these tips from Jones:
Nail the Shampoo. Always work in a downward motion because textured hair has a slightly raised cuticle; working from scalp to ends down the hair shaft reduces tangles, frizz and ultimately, damage. Working in this manner is also very important when conditioning and detangling.
Do Proper Detangling. Use a good detangling brush. To properly detangle textured hair, start at the very ends of the hair, brushing downward and working your way up toward the scalp as each section detangles.
Perfect Drying. Use a heat protectant and stay away from tools with extremely fine teeth, and instead work with those that have medium to wider teeth. Use a blowdryer with a concentrator attachment along with a paddle brush. For the healthiest blow-out, do not hold the concentrator directly on hair. Instead, hold the dryer back a couple of inches and follow your brush of choice in a downward motion to seal in moisture and shine as well as smooth the cuticle.
Stay tuned for the website. Pre-registration is open now.