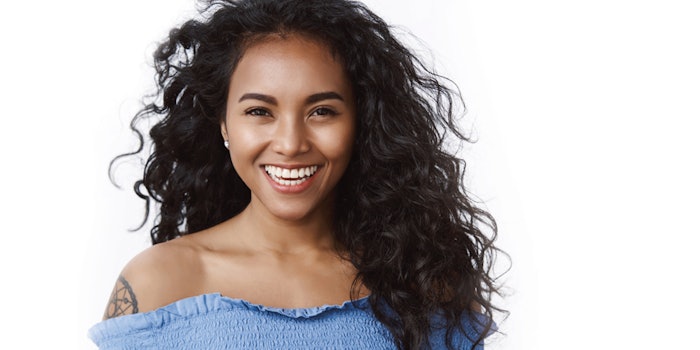 Whether your client's natural texture is subtle waves or tight coils, having solid knowledge about curly hair education is a must. Here, educators from three pro brands break down curly hair myths and provide insights for working with spiraled strands. —Audrey latimer
Curly hair can be dehydrated and hard to manage, so the trick is hydration, hydration, hydration! Start with a super-hydrating shampoo that's rich in oils like coconut, avocado and almond to help moisturize dry curls. Sometimes curly girls also need a little protein infusion to help repair damaged hair. For that purpose, I love mask layering.
When styling curly hair, using products that are hydrating without weighing down the hair or making it feel crunchy can be the difference between beautiful curls and lackluster droops. Apply a light curl soufflé to damp hair and allow curls to dry naturally or dry the hair with a diffuser. Just remember when using a diffuser on curly or wavy hair, it's important to dry hair on low-to-medium heat and air settings. "Cup" the hair in your hand as you move closer toward the scalp. Dry each section for approximately 20 to 30 seconds before moving to a new section. Having your client tilt her head side to side will help with the drying process. When using a diffuser, dry the hair only to 80 percent dry, and air-dry the rest of the way. Finish with a frizz control spray to help eliminate fuzzies, tame flyaways and redefine those beautiful curls with a lightweight finish.
Gaining more knowledge and understanding the science of each texture type makes navigating through curls, coils and waves a seamless process. So much of what goes into managing and caring for textured hair is rooted in hair's density, porosity, consistency, diameter, and even in the actual shape of the hair follicle. The shape of the hair follicle determines whether the hair will grow out straight, wavy, curly or coiled. Textured hair is oftentimes misunderstood, which creates an array of myths surrounding curls, coils and waves.
The curl myth I often hear is that frequently washing textured hair causes dryness. This is untrue. If hair type is assessed properly, it can improve the health of hair.
When it comes to washing frequency, there are three factors to keep in mind: a client's lifestyle, hair manageability/breakage and shedding, and hair thinning.
Lifestyle: Working out a lot and environments that expose hair to stressors that cause buildup on the cuticle are two examples of when to shampoo and condition more often. Continued buildup can be detrimental because it can affect the health of the scalp, and scalp health is key to providing a healthy environment for hair growth.
Manageability/Breakage and Shedding: If there is a lot of breakage and shedding, shampooing more frequently followed by conditioning allows the benefits of the conditioner to help rebuild, restore and resolve issues, as well as improve manageability.
Thinning: If hair is thinning, more frequency in shampooing provides a healthier environment for the scalp. Shampooing stimulates blood flow to the scalp and keeps pores open. Clogged pores can contribute to thinning, so keeping those pores open and healthy is key.
A good rule of thumb, regardless of texture type, is to shampoo one or two times per week. This allows effective blood flow to the scalp and helps to remove any product or free radicals that may accumulate on the strand, keeping the hair healthy.
There is a common misconception that using oils on wet hair seals in moisture, when in reality, oil and water do not mix.
Using oils to add shine or control frizz while the hair is wet is counterproductive. If you don't properly clarify on wash day, regular use of oils may lead to buildup on the hair, resulting in dry, brittle tresses. Lightweight oils are great to add shine and scrunch out the hard cast from styling products on dry hair.
Here's a tip I give clients who prefer dry brushing: Applying water-soluble oils throughout the hair can help soften tangles and provide slip before cleansing. Apply occasional overnight oil treatments to the hair and scalp, let sit overnight, then shampoo out the next day.
For best results in the salon, I start by detoxing the hair of surface resins using a clarifying shampoo. Afterward, I use a treatment to remove hard water mineral buildup, aid in moisture retention and help reduce frizz, followed by a mask to strengthen the hair from within. I then start my styling process, scrunching in a leave-in conditioner from mids to ends, followed by a gel, mousse, soufflé, geleé or other favorite product for hold and definition.