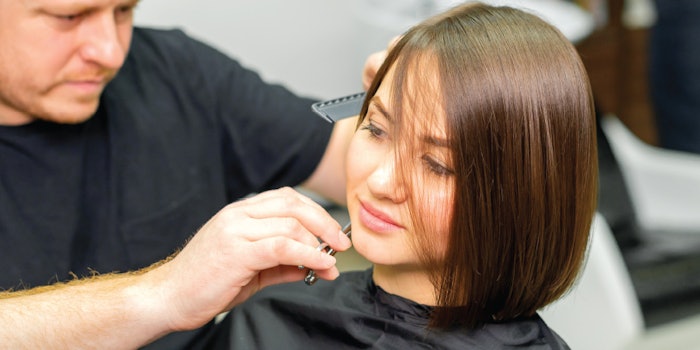 With so many cut, color and style trends this summer, it can be hard to keep up! Here, we ask several pro barbers what trends they've seen this summer, what techniques you need to follow and what tools you should have in your arsenal to create them.
What trending cuts have you seen recently?
Audrey Moreland (AM), Tondeo educator (@hairbyaudreym): The hot new trending cuts I'm seeing and doing are all super low maintenance but deliver a huge impact. It's all about texture and movement but in a modified low maintenance approach. The cuts of the summer that mimic exactly that are the French bob, which is super hot right now, and butterfly layers with full curtain/shag bangs. My long hair ladies love this because their low maintenance ponies are elegant and chic with this cut.
Kevin Nguyen (KN), Wahl US Lead Educator (@yakuzabarber): What I see in trendy cuts nowadays are longer length styles and short buzz cuts with color and designs.
Wayne Tuggle (WT), Hattori Hanzo Shears National Educator (@waynetugglehair): What I see that's trending the most is softness with long hair, short hair and even soft bangs. Trending this summer is definitely soft beachy waves on short and long hair.
Lauren Hebert (LH), Duomo National Educator (@thehairbabe): Haircuts are trending in general! For several years, our guests showed little interest in getting even a centimeter trimmed off. However, things have changed, and now they arrive with inspiration pictures that have shape, texture and movement—a dream for every stylist. The trending cuts I've observed include a voluminous face-framing layered cut, a.k.a. "the butterfly cut," mid-length cuts, soft yet blunt bobs and various styles of the "curtain bang" seem to be here to stay. As we transition from summer to fall, I anticipate a shift towards softer, lived-in lines in our cuts. We'll be seeing a ton of internal layering, "barely there" fringes and customized cuts that beautifully contour our guest's features. These new trends will seamlessly merge with existing popular styles, allowing us to ride the wave of what has been trending thus far.
What cutting techniques do you recommend stylists implement to help their clients have the best look possible?
AM: First, know your basics. Everything starts out as a basic cut. You need to know your angles, so when you're making your cuts, you can visualize where the layers will fall. From there, it's all about texture! With texture, you need to first establish whether you're removing weight or creating volume, then you apply your knowledge as a stylist to execute the look. If this is unchartered territory for you, my tip would be to invest in a class and then practice on a mannequin so you get a feel and vision to your cut.
KN: Not necessarily a cutting technique, but definitely expand your skill set on different variations of hair textures.
WT: For me, the best technique stylists should implement is "over direction" in every aspect of hair cutting because it creates and also maintains softness in all haircuts.
LH: I recommend initiating each haircut with a thorough consultation to understand your guest's desired outcome, lifestyle and specific hair needs. Following the consultation, personalization is a key technique. There are several ways to personalize haircuts, such as taking note of the individual's bone structure, adapting to their unique hair texture, selecting the most suitable technique and utilizing the perfect tools to achieve optimal results.
What is a haircutting tip you have for your fellow stylists?
KN: Understand the hair before approaching it. Proper preparation prevents poor performance.
WT: My haircut tip for stylists is never EVER cut too much off. You can always take more off. You can't put more back on.
LH: One tip that completely transformed my cutting game is to cut the external and internal layers before cutting and finalizing the perimeter of the cut. By eliminating bulk and reducing weight in the initial stages, it becomes significantly easier to create the shape you desire in the length of your cut.
What tools would you recommend stylists use to create these trending cuts?
AM: Having the right tools is the final component to executing a fabulous trendy summer cut! I personally choose Tondeo scissors and texturizers because to me they are the best. The German craftsmanship is unmatched. Pair that with conblade technology, and you have a truly exceptional blade.
KN: My go to set would be my Gold Cordless Magic Clip and my Gold Cordless Detailer Li!
LH: Undoubtedly, my 5.5" HH1 Kamikaze Shears by Hattori Hanzo have been key in creating all of my beautiful, flowing cuts. These high-carbon shears made from Japanese stainless steel are a true game changer. What sets them apart is the unique arc on the blade that pushes the hair as the scissors close which results in never cutting a straight line.
Tools for the Perfect Cut
You need to have the right tools in order to create the best summer cuts. Here, we share some of our favorite hair cutting tools you need to have.
The Hattori Hanzo HH1 Kamikaze is part of Hanzo's high-carbon shears family. Crafted with a very wide blade, the HH1 pushes through thick, coarse dry hair. The HH1 is perfect for the stylist who does a lot of dry finishing work and dry detail work such as channel cutting, slide cutting, carving, face-framing and point cutting. @hanzonation
Perfect for soft, controlled texture, the Tondeo Supra Fasson Classic Tulip Conblade contains tulip teeth on the lower blade with consistently large catch spaces for uncut hair for dynamic working and precise results. @tondeo_north_america
Andis reVITE Clipper shape is slim and compact with an unbreakable aluminum lower housing and a non-slip texture grip. Under the hood is an all-new rotary motor and ball bearing drive system with rubber mounts and gasketing designed to reduce vibration and noise. The showstopper is the new removable and adjustable blade design that offers easy cleaning and tool free changes between the fade blade and taper blade. @andisclippers