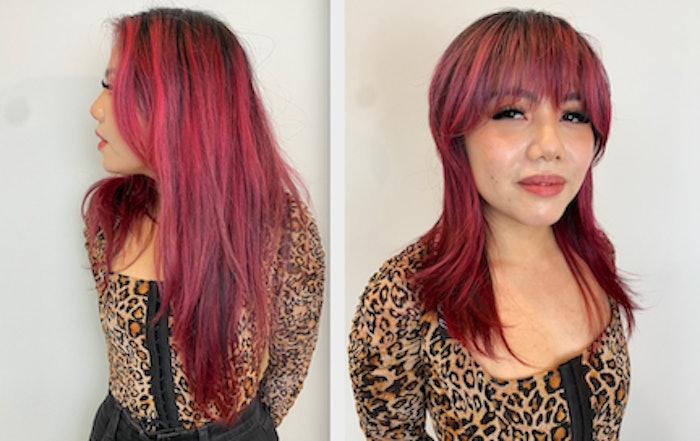 Courtesy of @fancyfinish
Mandy McCullough, Sam Villa ambassador and owner of Fix Salon, will be showcasing her popular octopus haircut live on February 7, 2022.
The showcase will take place on Facebook LIVE at 8:00 AM PT/11:00 AM ET. 
"People are ready for the next trend…this is a shag on steroids and works well on both straight and textured hair," says McCullough. 
This haircut is heavily layered. The interior is an extreme shag, and the ends are left long. The silhouette rounds with the head shape, similar to an octopus body, and the base length mimics the vibe of octopus legs. 
Good for anyone who…
Loves a shag but wants a more trend-forward version.
Has a lot of hair and wants to reduce weight while maintaining an edge.
Has a great natural texture and wants an air-dried organic finish.
Wants versatility in a haircut that offers multiple looks.
Octopus Haircut Step-by-Step:
Put all hair below the parietal ridge in a ponytail, leaving hair above the parietal ridge in a natural falling position lying over the secured hair.
Take vertical sections, elevate hair straight out and use a Sam Villa Signature Series Razor to cut a straight line from top to bottom. The base length should fall just below the top of the nape.
Repeat in radial sections around the head, but do not cut the fringe area.
Blow-dry hair with a Sam Villa Light Professional Ionic Blow Dryer. Working in compressed sections, elevate hair straight up. Use the top hair as a guide to point-cut and create layers that connect the top to the perimeter length.
Isolate a triangle fringe area and cut a curtain fringe to the desired length.
Using two guides, one from the top of the crown and one from the center top of the fringe, elevate hair straight up in sections and point-cut lengths to connect between the two guides.
Personalize by removing bulk and weight by point-cutting or using Sam Villa Signature Series InvisiBlend Shears.