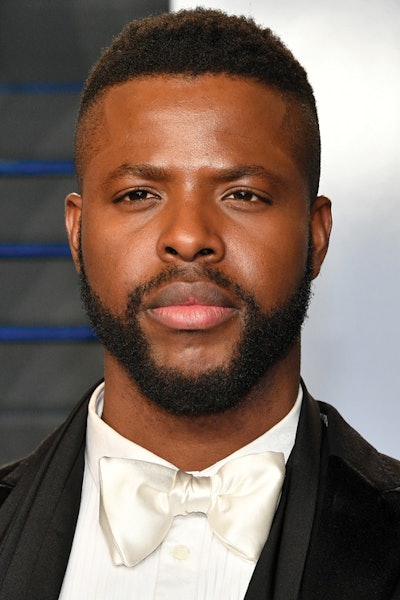 Winston Duke's precision cut is the perfect low maintenance look for the guy on the go. Read on to learn how to create his structured 'do.
Style Recreated by Nieves Almaraz, Wahl education and artistic team member
Start on the shortest lengths of hair, which are the sides and back of the head. With the number one attachment on the Wahl Cordless Senior and the adjustment lever in the closed position, begin working up the sides of the head, cutting slightly above the temple and just below the parietal ridge. In the back of the head, cut above the occipital bone.
Blend and transition from the shorter lengths of hair into the longer lengths. Adjust your clipper to the open position, and with a C-stroke technique, cut away from the head in the parietal ridge on the sides and back of the head.

Work on the longer length at the top of the head. With coarse textures, it's important to use a pick comb to bring out the hair and trim the desired shape. Once the hair is combed out, begin shaping hair with no attachment on the clipper and the adjustable lever in the closed position.

Add finishing touches with the Wahl Retro T-Cut. Begin cleaning the outer perimeter of the hairline to make definitive lines. With a number two attachment, trim down and shape facial hair. Clean up and cut to the perimeter of the facial hair and hairline by using the Wahl Retro T-Cut or a styling razor.

Use a sponge to curl the hair on top with a water-based pomade to bring out natural texture, and follow with an oil to add slight luster.
RELATED: How to Create a Modern Day Pompadour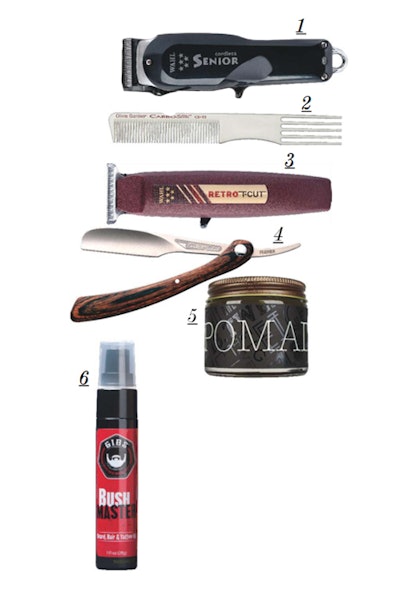 RELATED: Q&A With Barber John Mosley, aka @popular_nobody
1) Wahl Cordless Senior
2) Olivia Garden CS-T5
3) Wahl Retro T-Cut
4) Jatai Feather Styling Razor
5) 18.21 Man Made Pomade
6) Gibs Grooming Bush Master Beard, Hair & Tattoo Oil
[Images: top - Getty Images; bottom courtesy of manufacturers]