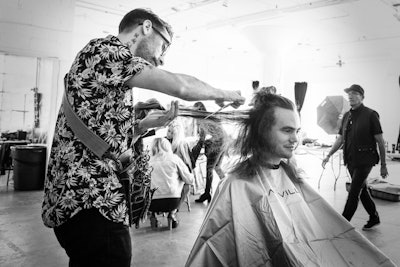 Slide cutting shears are the perfect tool for creating the loose, deconstructed haircuts currently on trend, because they remove bulk, texturize and soften to create the shattered shapes lending to an organic lived-in finish.
Jesse Linares, Sam Villa ArTeam, explained, "A beefy slide-cutting blade met up with our trademark double-tang handle and forward-set thumb configuration - and the Artist Series 6" Slide Cutting Shear was born. It's a unique tool that offers so many different hair removal and ergonomic grip options. I can't put it down!"
Linares shared some of his favorite fundamental slide-cutting techniques for removing length and bulk:
Hold a section of hair with medium to high tension. The cutting will occur in the INTERIOR of the section, so give hands some "room to breath" (i.e. If the cutting line is eight inches in length, draw hand out to nine inches or so, allowing more room for the shear to move without danger).
Open the slide cutting shear and place the opening against the interior of the section. Cut from the interior, moving the shear toward the ends while closing. How wide the shear is opened and how far it moves when cutting will determine the type of texture created. Opening a tiny bit and cutting from the interior with a short slide will create stronger more visible statements within the section of hair. Conversely, opening the shear wider and cutting with a longer slide will result in softer more diffused ends. Think "short stroke or long stroke" with a razor.  This is a very individual technique, and each person must practice to develop his or her own "feel" for it. Play and have fun!
This is a great technique for selectively removing bulk from the interior of a section, or for creating textured lengths that go way beyond simply point-cutting the ends. A slide cutting shear will help stylists meet the increasing client demand for textured shapes. The shears are available at SalonCentric, State Beauty Supply, RDA ProMart and www.samvilla.com.
[Image courtesy of Sam Villa]