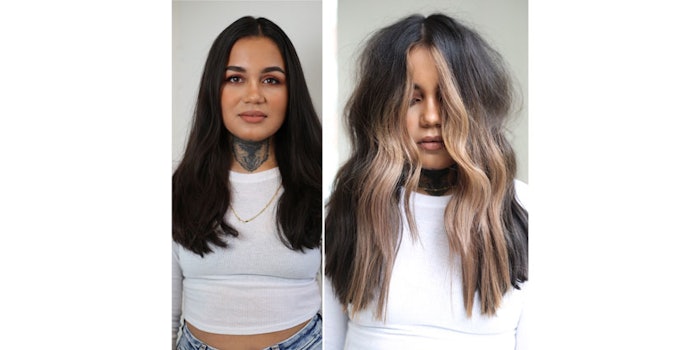 "With levels 6-10 you can create mauve and icy pink tones with just one single tube. The .8 series is a staple in any colorist's tool belt! Mix with 10- or 20-volume as an allover color for your clients that want something new for the new year! The Pearl series might just be my favorite collection in the already amazing Chromasilk family," says Rae.
This color series combines classic softness with modern strength for reflective, shimmering shades.
These permanent Pravana formulas are a great way to create a multidimensional, multifaceted unique effect to hair, powered by extra silver and pink pigments to balance tone, magnify luminosity and boost reflection.
The ChromaSilk Pearl Series uses keratin and amino acids to drive color deep into the hair fiber for long-lasting, high-shine color, while concentrated dye loads for superior gray coverage allow for richer, longer-lasting color that makes a subtle, yet strong, statement.
Learn how Rae created this trending look:
Balayage with Pravana Pure Light Ultra Lightener with 30 Vol Crème Developer (mixed 1 part powder :2 parts developer) from the ears forward, lifting to a level 7/8.
Shampoo and dry the lightened hair.
Apply the new ChromaSilk Pearl Series in 7.8 with 10 Volume Creme Developer (mixed 1 part color : 1.5 parts developer).
Process for 15-30 minutes.