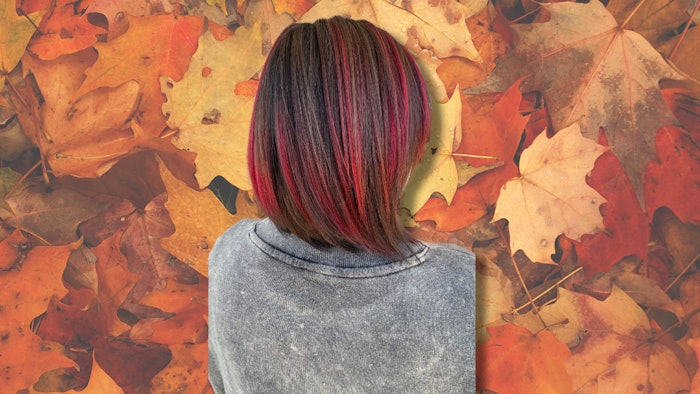 Courtesy of Becky Betts and PRAVANA
Cherry red is expected to be one of Winter 2023's biggest hair trends.
For clients that don't want an entire vivid head of red hair like Megan Fox, a melt is a great route to take. 
Becky Betts (@the_blonding_rebel) created a scarlet melt for one of her client and is sharing her tutorial for bringing the look to life using products from PRAVANA. 
How-To: 
ChromaSilk HydraGloss Formulas:
Formula 1: PRAVANA ChromaSilk HydraGloss 45g4Nt+ 45g PRAVANA Zero Lift Creme Developer
Formula 2: PRAVANA ChromaSilk HydraGloss45g5R+ 45g PRAVANA Zero Lift Creme Developer 
Application: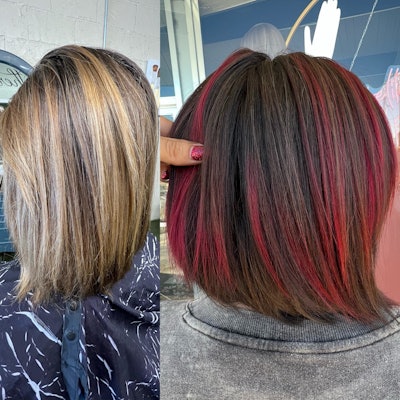 Prep the hair by spraying Purify and Revive PRIME to diminish any hard water minerals
Taking ½" sections, apply HydraGloss Formula 1 as a Stretch Root, varying how far you drag it down to add depth.
Then go back through taking ½" sections and apply ChromaSilk HydraGloss Formula 2 to the mid-lengths and ends blending them gently into the Stretch Root.    
Process 20 minutes at room temperature. 
Cleanse and condition with PRAVANA's Color Protect regimen. 
Style as desired. Pro Tip: For hair that is very porous, cleanse first with Purify & Revive Cleanse to diminish any minerals and apply Silk Degrees Prep & Treat for 5 minutes to equalize the porosity and rinse. ChromaSilk HydraGloss can be applied to well towel-dried hair.