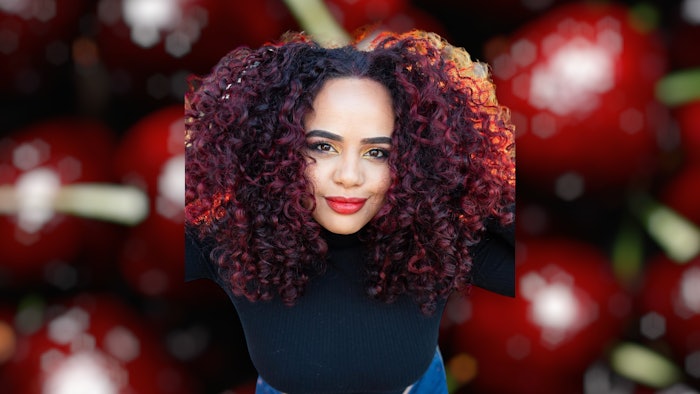 Courtesy of Savannah Hicks (@thesavvytouch)
Fall is here, and we are red-y for it! 
Cherry Cola is the new trending hair color, with '90s and grunge aesthetics being all the rage on social media platforms like TikTok and stars like Dove Cameron and Megan Thee Stallion sporting the color. The Cherry Cola color has mahogany tones that sit between red and violet, tending to look like a deeper violet brunette indoors and more red shines through in natural sunlight. The best part about this shade is that it is dimensional and can be adjusted depending on your client's starting point. 
Below, Beauty Launchpad 30 Under 30 and hairstylist at The Hair Standard in Las Vegas, Nevada Savannah Hicks (@thesavvytouch) shares her tutorial for bringing gorgeous cherry cola curls to life.
"This look was inspired by the simple fact I LOVE reds. I think everyone should try it once in their life and live on the edge," Hicks shares. "I feel honored enough to have done a collab with [Forever Curls Academy Founder] Leysa Carrillo."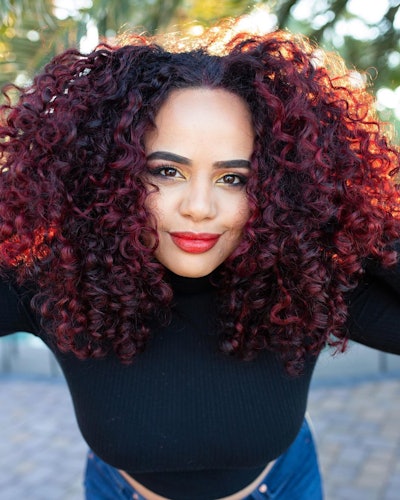 How-To: 
Our beautiful client started off with natural level 4 on her roots into a demi color level 2/3 mids to ends. Carrillo went in with a dry cut to create shape and add volume along with removing some of the previous color. 
Then, we decided to use Malibu C CPR prior to color application to pull as much previous artificial color out and allow a clean canvas to apply a full lightening using Redken Flash Lift with bonder inside.
Toning Formula: 20 minutes Redken 7RR and 5C
Apply Joico Ruby Red for 20 minutes on dry hair.
"Reds in general are trending but slowly shifting to richer and deeper," Hicks adds. "I personally think cherry cola will always be a statement color in our industry. It gives rich auntie vibes, and you can slightly shift the tone to ANY SKIN TONE." 
See more cherry cola hair looks in our September/October 2023 issue.