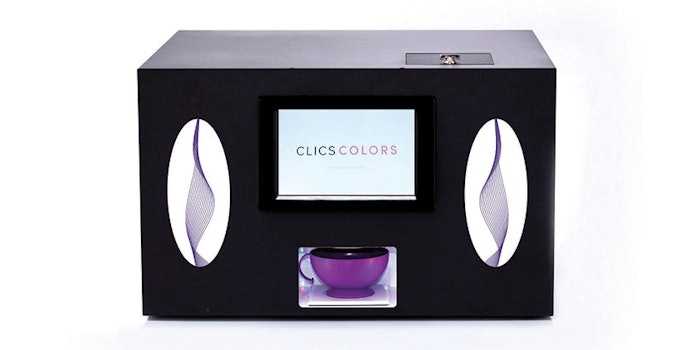 When creating CLICS, a color system aiming to turn the traditional way of doing color on its head, the two cofounders melded their vastly different backgrounds to craft a product that played on both of their strengths: beauty and technology. Leilani Macedo, a longtime stylist and former salon owner, and Charles Brown, a tech industry pioneer, are the masterminds behind CLICS. Beauty Launchpad caught up with both to learn the benefits and intricacies of the revolutionary system.
Beauty Launchpad (BLP): What was the moment in your career when you knew something had to change about professional hair color?
Leilani Macedo (LM): Throughout my career in the professional salon industry, I became aware of the many issues that surround the hair color inventory, which led to my desire to create a solution. It was when I opened my own salon and managed the inventory for a full staff that I recognized the huge inefficiencies and wasteful practices that can have a negative impact on a salon's profitability. When I searched the industry for an answer and found out there wasn't one, I decided to form a team and create the solution.
BLP: With experience as both a stylist and a salon owner, can you speak to the benefits that both will receive when using CLICS?
LM: The CLICS patented technology delivers many benefits for salon owners, stylists and clients.
For salon owners and chair-renting stylists:
• No inventory to pre-purchase
• Cash flow positive: "color-as-a-service"
• Automated inventory management
• Pin-based accounting and reconciliation
• 20-40% reduction in color waste
• Client management tools
• Back-end reporting tools
• Ecological benefits
For stylists:
• More color choices
• Precision formulation
• Predictabilty and repeatable results
• Client data including hair profiles, formula historyand reporting functions
• Always available inventory
• Time-saving capabilities
• Ecological benefits
BLP: What specific aspect of the system are you especially excited for hairstylists to use?
LM: The CLICS system solves so many issues for stylists and salon owners.
The mobile app is very convenient to use. You can formulate anywhere, anytime with an internet connection. Stylists will be able to set clients up days in advance for increased time savings. The color line is exceptionally vibrant and with just 23 shades, you can create millions of color combinations. Less inventory to manage with increased color selection!
BLP: CLICS is more than a color dispenser–it's also a robust client service management platform. Can you break down what client information is captured and why it is important for a successful color service?
Charles Brown (CB): CLICS captures all the key elements of a successful color service and records them for each stylist. CLICS' mobile app includes a hair profile and consultation that's created during the first service and is updated with each follow-up visit. It takes only a moment to set the Hair Profile, which captures the starting level, percent of gray hair, length, porosity, density and prior coloration.
The consultation allows the stylist to ask the client specific questions that help the stylist clearly understand the client's desires and makes sure they are continually satisfied. During the service, additional information is captured including before and after pictures, the details of each formula, each formula's application, and processing time.
Finally, the client has an opportunity to provide feedback after the service via text message, so that the entire service process can be evaluated based on the client's level of satisfaction.
BLP: Tell us about one of the "breakthrough moments" when you knew CLICS was going to change everything.
CB: The biggest realization came as we began watching how much stylists and clients love the CLICS color line. We set a goal to develop an innovative proprietary formula to create the highest-quality, best-performing line possible. It took four years of research and development, and it paid off. CLICS customers are delighted.
BLP: Tell us about some of the unique features of CLICS designed to benefit the salon owner's wallet as well as the environment?
CB: The CLICS SmartBowls™ eliminate wasted color worth 20–40 percent of salon profits. CLICS also makes salons hair color cash flow positive with its pay-after-dispense business model. Furthermore, CLICS provides state-of-the-art mobile app-based color service tools that are designed to increase customer satisfaction and lifetime value.
Ecologically, CLICS customers are helping the environment by removing color waste from their water systems, tubes and packaging from their landfills and removing carbon from excess repackaging and transportation through free direct-to-salon shipping.