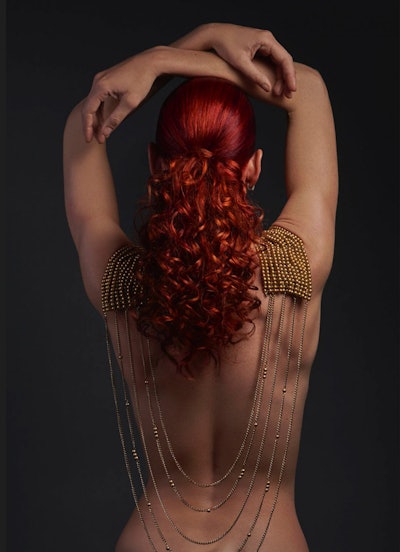 Cynthia Dierson created a gorgeous collection, Terra Americana, for CHI. This curly, bright look is perfect for any music festival you're heading to this summer.
Cynthia created this color by admiring the beauty in the rich reds of the plains. This is her interpretation of some of my favorite hues.
CHI Shine Shades 1.0oz 8RV, 1.0oz 8V, .50oz Blue Additive, 10vl CHI Color Generator.
CHI Shine Shades 1.0oz 9CG, 1.0oz 6C, .20oz Orange Additive and 10vl CHI Color Generator.
CHI Chromashine CHI Red and Mellow My Yellow.
To style, you'll need the following: Dura CHI 1" Ceramic Curling Iron, CHI Royal Treatment Ultimate Control Hairspray, CHI Pliable Polish.
Section the hair in half from ear to ear and secure 2 ponytails - one above the other.
Use Pliable Polish for a smooth finish while brushing hair back. Gather a 1" strand of hair and wrap around both ponytails to create 1 smooth ponytail.
Using your Dura CHI Ceramic Curling Iron and your CHI Ultimate Control Hairspray, take sections 1" thick; spray and curl.
[Image courtesy of CHI Haircare]