Celebrities are natural chameleons and trendsetters. From red-carpet premieres to glossy magazine spreads, they change looks as easily as changing clothes—and their hair hue is no exception, which is why a good colorist is worth her weight in gold statue awards. Here, we share formulas provided by celebrity colorists for their famous clients, so you can have all your guests looking like stars when they leave the salon.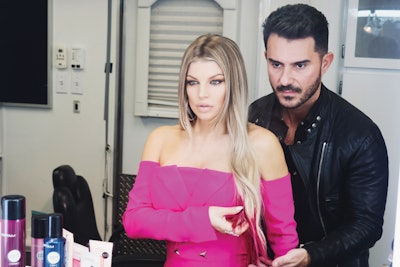 Dimensional Duchess
Fergie's lush locks are almost as enviable as her unforgettable voice. She started out as a judge on the hit singing show The Four: Battle for Stardom with pale platinum tresses, but as contestants came and went, her hair color also evolved. "We recently aimed for a softer, sandy blonde," reveals Matrix celebrity stylist George Papanikolas. "It's close to her natural tones and so flattering with her complexion." Contrasting hues plus multiple dimension are an added perk: They help this style grow out seamlessly.
PHOTOS: Blue Hues Are Poised to Take Over Your Color Station
Formulas:
Formula A - 1.5oz. Color Sync 6N, .5oz. 8N, 2oz. 10-volume Cream Developer and Bond Ultim8
Formula B - 1:1 Color Sync 4N, 10-volume Cream Developer and Bond Ultim8
Formula C - Balayage: 1 scoop Light Master, 1 scoop Freehand Additive, 1oz. 40- volume Cream Developer and Bond Ultim8
​
1) Apply Formula A to base; feather down to create depth and dimension. (Don't pull color all the way through to ends.)
2) Apply Formula B to nape for peekaboo effect. Process 20 minutes; rinse thoroughly. Rough-dry until 80 percent dry.
3) Hand-paint delicate highlights at base, gradually getting thicker and heavier through ends. Lift to a pale yellow, or up to 50 minutes. Rinse thoroughly.
4) Apply Bond Ultim8 2 Sealer for 10 minutes. Rinse; cleanse and condition with Total Results Color Obsessed Shampoo and Conditioner.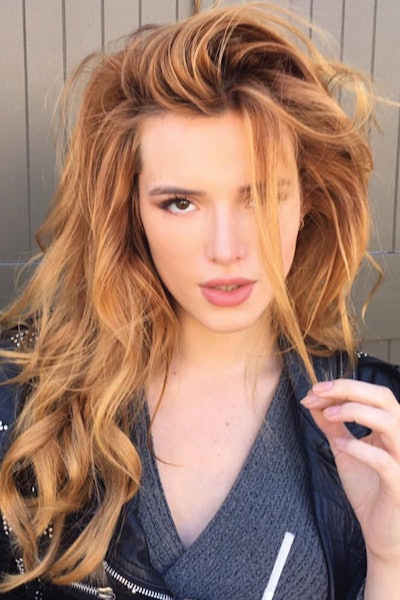 Bella of the Ball
Celebrity stylist and Beverly Hills, CA-based Lukaro Salon owner Rona O'Connor loves the sunny undertones of actress Bella Thorne's warm red: "It reminds me of a golden apricot." The pair have enjoyed a fruitful decade-long partnership of color collaborations. "We always have fun, especially when creating pops of brighter hues that sparkle," says O'Connor. Color: Goldwell
​PHOTOS: 7 Fashion Forward Hair Colors in Time for Music Festival Season
Formulas: 
Formula A: Regrowth - 20ml. Topchic 9G, 20ml. 8KG, 20-volume developer
Formula B: Red lights - 20ml. Topchic 9G, 10ml. 8KG, 20-volume developer
Formula C: Golden lights - 10ml. Topchic Blonding Cream, 10ml. 9G, 30-volume developer
Formula C: Toning gloss - 10ml. Colorance 9KG, 10ml. 10G, 3ml. GG mix, 46ml. Colorance developer
Natural Level 7
1) Apply formula A to the first three to four inches, starting at the scalp.
2) Apply formula C, using foils and taking half-inch partings on the top of the head (mohawk pattern), framing the face. Begin by applying the color from the ends working toward the scalp.
3) Apply formula B to the remaining hair, combing through to ensure the two formulas meld together.
4) To create more brightness around the face, select ribbons and paint formula C from mid-shafts through ends.
5) Process for 15 to 20 minutes. Rinse thoroughly and shampoo twice. Towel-dry and apply formula D, making sure to saturate evenly. Process 15 minutes, then rinse and condition.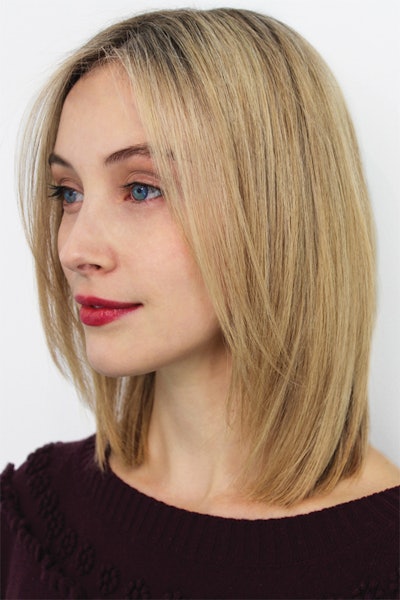 Northern Lights
When Canadian actress Sarah Gadon started filming Netflix series Alias Grace in 2016, the role required her to shift from bombshell blonde to Irish red, followed by charcoal brown for an indie film. "Wanting to eventually yet safely reclaim her fair hair, we began the gentle transition with a back-to-back balayage technique that let me cut through existing brunette sections to achieve a dark flaxen base," shares Lisa McAuliffe, Product Club senior educator and owner of Toronto's l.a.m.b salon. Babylights were applied in a subsequent visit to achieve a natural highlighted look. The result reads as bright but believable.
RELATED: The Color.Me by Kevin.Murphy Team Reveals This Season's In-Demand Shades
Formulas
Formula A - 20g. Multi Techniques Lightening Powder, 40g. Maji Crème 20-volume
Formula B: RED LIGHTS - 20ml. 9G, 10ml. 8KG, 20-volume peroxide
Formula C: ROOT SHADOW - 20g. DIA Light 8N + 5G, 3.75g. Diactivateur 9-volume
Formula C: MID-SHAFTS/ENDS - 25g. DIA Light Clear, 3.75g. Diactivateur 9-volume
Formula D: BABYLIGHTS - 15g. Multi Techniques Lightening Powder, 30g. Diactivateur 15-volume
1) Apply Formula A in a mohawk pattern at top of head, and via backward diagonals around temples. Process at room temperature for 20 minutes. Cleanse and towel-dry.
2) On damp hair at basin, apply Formula B approximately one and a half inches from scalp. Apply Formula C on mid-shafts and ends. Meld together using a comb. Process for three minutes. (Hairline is left out of melding process to keep it bright.)
3) Apply Formula D with Product Club Pop-Up Foils and Feather Bristle Brush in a diagonal pattern starting at nape.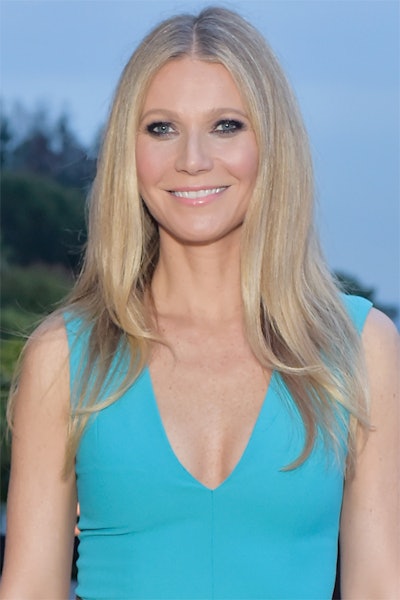 Gold Star
There was no specific occasion for Gwyneth Paltrow's recent tress touch-up. "She just loves being bright blonde!" says Tracey Cunningham, Redken celebrity colorist. "We wanted to bump it up and make it golden." Though undeniably eye- catching, the shade looks natural. "You don't need a long root time to create a shadow," Cunningham reveals. "The 8GG is great for that, while 9NB adds depth to the formula."
VIDEO: Watch How to Create This Light Rose Gold Hair Color
Formulas
Formula A: HIGHLIGHTS - 1 part Flash Lift Lightener, 1 part 20-volume Pro-Oxide Cream Developer
Formula B: BALAYAGE FOR ZONE 2-3 - 1 part Flash Lift Lightener, 1 part 40-volume Pro-Oxide Cream Developer
Formula C: GLAZE FOR ZONE 1 (ROOTS) -1oz. Shades EQ Demi-Permanent Hair Gloss 8GG, 1oz. 9NB, 2oz. EQ Processing Solution
1) Weave highlights at roots with Formula A, then balayage ends with Formula B to brighten. Rinse when highlights are bright, gold blonde.
2) Apply Formula C for 5 minutes, focusing on one inch of hair at roots. Add hairline root for final minute.
3) Lift up ends and rinse. Shampoo and condition with Color Extend Magnetics.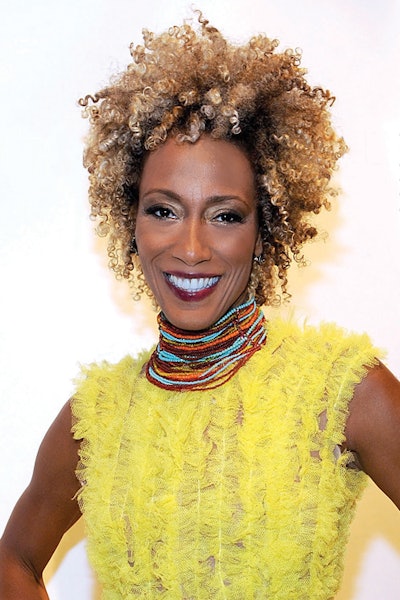 Two Toned
As a Tony-nominated dancer and actress, Karine Plantadit is a double entertainment threat—and ditto goes for her untamed tresses. "I love that she can simultaneously rock both warm and cool tones," enthuses Wendy Bond, Lakmé national director of education. "Though we keep her in the caramel family, Karine feels her hair helps dene new life chapters, so she's always excited for a change."
Forumulas
Forumula A - 60g. Collage Crème Hair Color 1/17, 90ml. Collage Hydrox Developer 30-volume
Forumula B - 30g. K.blonde Compact Bleaching Powder Cream, 60g. Collage Hydrox 20-volume, 10ml. i.plex treatment
Forumula C - 25g. Gloss 10/20, 25g. Gloss 10/17, 100g. Gloss Developing Emulsion
1) Apply Formula A on roots to ends. Process 35 minutes. Wash with Bio-argan Hydrating Shampoo. Treat with Bio-argan Hydrating Mask.
2) While hair is damp, apply Formula B on strands or curls ( - inches thick) and twist into long foils. Move around head, varying placement depth. Process at room temperature for 30 minutes. Shampoo and treat as before.
3) On damp hair, apply Formula C. Process to desired tone, about 10 minutes. Shampoo. Apply Formula B i.plex treatment. Rinse and style.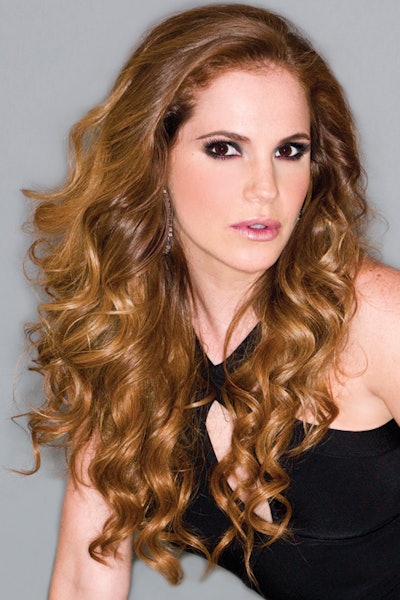 Hot to Trot
"This color personality is called 'Penny in the Trevi,'" smiles Rocco, Aloxxi international artistic advisor. He crafted it for Venezuelan actress and model Maritza Bustamante, the bombshell best known for her telenovela work. Says the Miami-based celeb stylist, "The rich color looks natural next to the complexion of her skin."
Formulas
Formula A: BASE - 30g. Chroma 6K + 10g. Chroma 6NT with 20-volume developer
Formula B: MID-LENGTHS -20g. Tones 8K + 20g. 6K with 80g. 7-volume Activator
1) Prepare with Barrier Crème to protect skin. Apply ColourPrime Pre-Color Treatment (3 in 1: porosity equalizer, gentle cleanser, scalp protector).
2) Apply Formulas A and B. Develop, emulsify, rinse. Use Support Colour Lock Post-Color Finisher for two minutes to close cuticles and neutralize residual developer. Rinse and style.
[Images: Fergie: Matrix; Bella Thorne: Rona O'Connor; Sarah Gadon: Lisa Mcauliffe; Gwyneth Paltrow: Getty Images; Karine Plantadit: Getty Images; Maritza Bustamante: Gustavo Felizola]