Always seeking to advance his technical expertise, Matrix artistic director Chrystofer Benson has been using a color misting technique to speed up color application time for techniques ranging from color melting and marbleizing to base shading. The technique involves applying haircolor with Benson's CBC Water Bottle, which provides
a smooth, continuous, aerosol-like delivery—no brush necessary. While the processing time remains the same, the application time is reduced. It took Benson only 20 minutes to apply the color for the vibrant four-shade color melt seen here. "On longer hair, I can do this same application in 30 to 40 minutes, so it significantly cuts down my time," he says. Matrix Color Graphics Lacquer semipermanent color is Benson's go-to for color misting techniques, mixed with Total Results Pro Solutionist Instacure. "This allows for it to be sprayed out while maintaining great viscosity to work with, and it doesn't run everywhere like water does," Benson says. Learn how to achieve the look here.
RELATED: Readers Choice Awards 2017 - Color
Formulas
Formula A: 1 Matrix Light Master + 20-volume Cream Developer + Bond Ultim8 Step 1
Formula B: Equal parts Color Graphics Lacquer Purple and Blue
Formula C: Color Graphics Lacquer Light Indigo
Formula D: Color Graphics Lacquer Teal
Formula E: Color Graphics Lacquer Yellow
RELATED: Matrix's Top Tips for Colormelting
1: Pre-lighten the hair using formula A, applying a inch away from the new growth through the ends. Process until pale yellow, rinse thoroughly, cleanse lightly and blow-dry hair.
2: Section hair, isolating the nape, occipital, sides and top crown regions.
3: Apply formula B to the entire scalp area and all of the nape area.
4: Color melt formula C into formula D in the occipital and side sections.
5: Working in the top section, melt formula D into formula E.
6: Process accordingly and rinse thoroughly.
"Once you spray the color, use your hands to melt hues together or leave after spraying for more marbling effect," says Chrystofer Benson
Tools of the Trade
Benson relies on these essential tools when using his color misting technique, all available at cbensoncollective.com.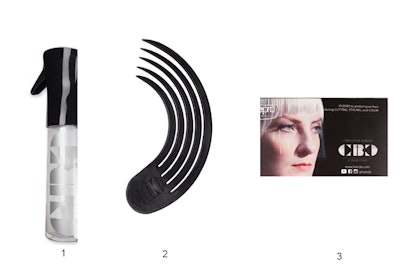 1 CBC Water Bottle features a reusable dispensing head and a bag- in-bottle non-pressurized container that releases a ne, continuous mist comparable to that of an aerosol dispenser, reducing trigger fatigue.
2 CBC C Comb can be used to detail and section hair, as a control clip that won't leave marks on the hair, as a hair ornament and for backcombing.
3 CBC Vyzors are thin, soft lm sheets that can be used to shield clients' faces while coloring, cutting or blowdrying hair— or use like foils.
–by Lotus Abrams
[Images: Ton Zitting; Getty Images]