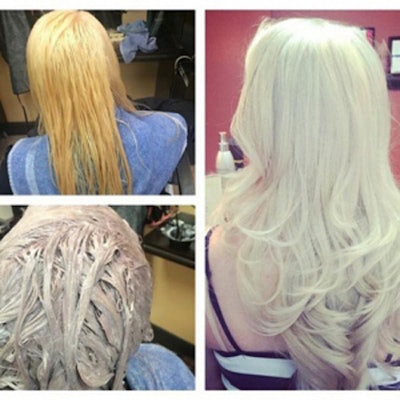 Hairstylist Dustin Stone recently helped his client achieve this gorgeous, icy blonde haircolor. Below, he shares his formula and technique for recreating the beautiful hue!

Get the Look:
1. Says Dustin, "When the client first came to me she had level 6-7 hair, previously colored/highlighted. I first began to lighten her in 4 quadrants using Schwarzkopf Professional Blondme 9+ and 20 vol., keeping the lightener about an inch away from the scalp.

2. "After processing for 45 minutes at room temperature, I applied Schwarzkopf Professional Blondme 9+ and 7 vol. to zone 1 (re-growth area) and processed for another 30 minutes.

3. "I then rinsed the hair and shampooed using Schwarzkopf Bonacure Fibre Force.

4. "For the toner, I used 30g Ice, 20g Steel Blue, and 12g Lilac Blondme Toning Creams mixed in equal parts with 7 vol. I applied to damp hair and let process for 25 minutes."

For more from Dustin, follow him on Instagram @Dust1nSt0ne!