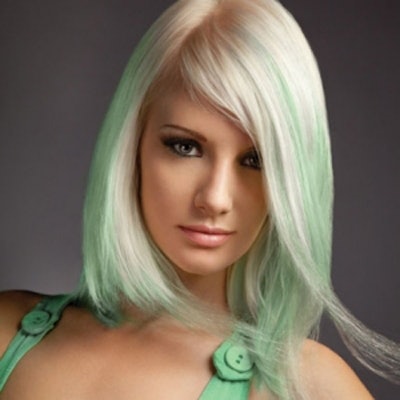 Colorists, rejoice! Pravana is expanding their beloved ChromaSilk Vivids range with the introduction of Vivids Pastels and Clear, the perfect option for clients who are looking for a fun, but soft, pop of color.
The line is comprised of five delicate, yet vibrant, shades including: Pretty in Pink, Luscious Lavender, Blissful Blue, Too Cute Coral and Mystical Mint. Give clients a bold new look to rock 24/7 or offer the option to wear pastels whenever by creating custom extension pieces for them.
PROCESS:
1. The hair must be pre-lightened to a level 10 before applying Pastels for the purest shades.
2. Before applying Pastels, hair must be freshly shampooed and towel-dried.
3. Apply the color directly to the hair, again without mixing with any developer.
4. Allow to process for 20 minutes at room temperature. Once the processing is completed, thoroughly shampoo and rinse from the hair until the rinse water runs clear.
In addition to these five new shades, the brand introduces another way to achieve pastel hues with Vivids Clear. When added to any of the ten classic Vivids shades — Silver, Yellow, Orange, Red, Pink, Magenta, Violet, Green, Blue and Wild Orchid — Vivids Clear softens and lightens the hue for ultimate color customization. Vivids Clear can also be used on its own as a clear glaze for extreme shine.
Both Vivids Pastels and Vivids Clear will be available beginning May 2013.
[Image: Courtesy of Pierce Mattie Communications]