When Dancing With The Stars judge, Julianne Hough, married hockey pro, Brooks Laich, last month, she scored huge points for her glam wedding-day hair-color, created by L.A. mega-stylist Riawna Capri of Salon Nine Zero One. Here, the full scoop on Julianne's "I 'Do!"
The Prep
Masterminding wedding-day hair-color for one of America's most beloved sweethearts is not something you whip up in a last-minute riff-off. In fact, the pair sat down a full year in advance to discuss the vision that "Jules" had been dreaming of for her bridal debut. Armed with a photo of herself at the age of ten, the star explained how she wanted to transform her sandy strands into the bright, shining blonde of her youth. And while that can be an impossible task in a single visit, the 12-month leeway gave Riawna all the prep time she needed for Julianne to grow out her hair and steer clear of chemical services. "I barely touched her hair the whole time she was on tour; and that allowed it to keep its integrity," explains Riawna, who wanted a canvas of "virgin" color for the big transformation.
The Countdown
As the wedding day neared, Julianne came in for what would be the first of two intensive coloring appointments; the initial session (nearly seven hours long!) involved returning her hair to that gleaming childhood shade. Using Joico's new Blonde Life™ Lightener, a color revolution that swiftly lifts nine+ levels while nourishing hair with unparalleled hydration, Riawna was able to create a whole head of fine, dazzling highlights from the nape of the actress's neck all the way to her hairline.
Riawna's Formula Notebook (from her Instagram):
I took my time and did full-blown, baby-fine highlights, leaving no space in between the next foil...all baby highlights back to back. Here's how I did it: Using Joico Blonde Life Lightener, I started at the nape of her neckline with 10 volume. Once I got up to the middle of her ears, I switched to 20 volume. When I reached the top of her crown, I then went with 30 volume, until I was about an inch away from her hairline. At that point, I switched back to 20 volume; and on her actual hairline, I used 10 volume again. (Still following lol?) I think I had to remix about 7 full bowls of bleach total. No joke. Once all the foils were in, I finally got my glass of Rosé! Next, I took out the ones at the bottom that were ready to go, patiently waiting for the rest to catch up...and then washed about 19 pounds out of her hair! The secret trick to make her sparkle is painting 40 volume on her entire hairline at the bowl, leaving it on for 5 minutes. Toner was sweet and simple: 9NV+9V+Clear all equal parts of Joico LumiShine®. Not only was the tone perfection, but the condition and shine we got after leaving it on for 10 minutes was incredible. I sealed the whole deal with K-PAK RevitaLuxe. After 19 pounds of bleach, her hair felt like butter!!! 2 appointments and 10 hours later, Jules had her perfect wedding color.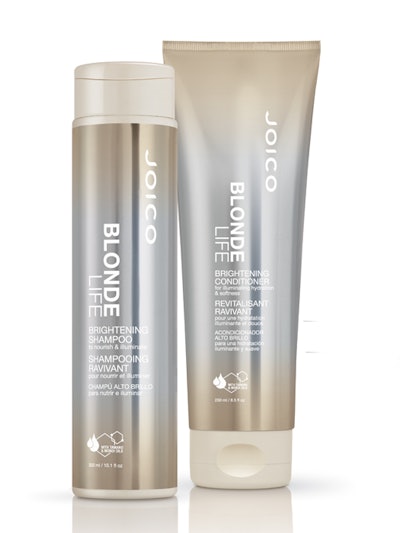 The final color bonanza, which took place right before hopping a plane to the wedding destination of Coeur d'Alene, Idaho, focused on preventing darker regrowth. "I painted 20 volume directly on the hairline and fine baby hairs to cut out any root action," explained Riawna. "It's a little last-minute trick of mine that makes blonde hair really natural-looking."
Aisle Style
With a blindingly beautiful head of highlights to protect, Riawna laid out a regimen guaranteed to keep Julianne's hair healthy and super shiny. "I sent her on her way with Joico Blonde Life Brightening Shampoo and Conditioner (SELF Approved Beauty Awards 2017 Winner: Best Colored Hair Duo), and had her use Joico K-PAK Color Therapy Luster Lock Shine and Repair Treatment on the morning of the wedding, before we styled her hair." It's a prescription this savvy stylist actually issues to all her newbie-blonde brides. "The products are like liquid gold -- they leave hair shiny and soft as silk."
In the end, all the planning and tender loving hair care paid off big-time, as Julianne, who was "overjoyed" at her color, captured headlines across the country for her dynamic wedding-day style and gorgeous snaps. It's a love story from start to finish.