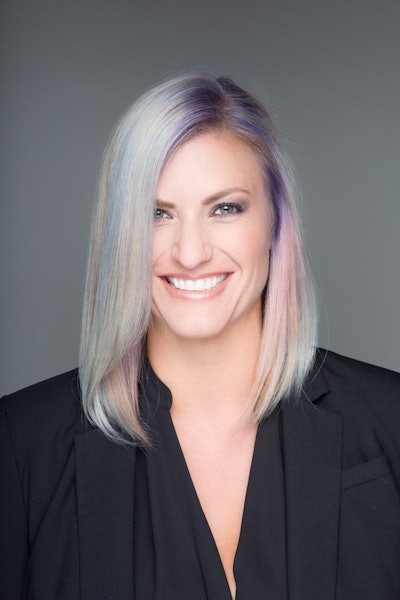 PRAVANA recently announced their new color team, and aren't wasting any time putting them to work. This gorgeous, mother-of-pearl look was created by Presley Poe, who's generously shared her techniques here!
Check out Presley's formula below:
Mix equal parts VIVIDS Moody Blue and VIVIDS Rose Gold then apply to the base and nape
Apply VIVIDS Rose Gold to the area above the nape from the end of the base color through the ends of the hair
Apply VIVIDS Smokey Silver to the crown
Apply VIVIDS Rose Gold to the sides
In the next 1" section, apply VIVIDS Rose Gold to the mid-shaft and VIVIDS Moody Blue to the ends
In the last few sections before the part, apply VIVIDS Moody Blue and repeat on the other side
Process for 20 minutes at room temperature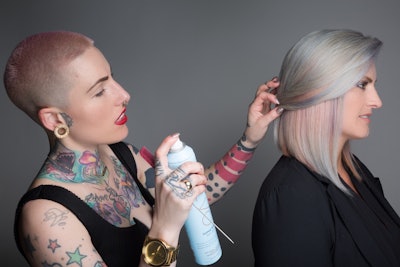 More about PRECIOUS METALS: For the first time ever, PRAVANA releases a multi-tasking collection of VIVIDS and ChromaSilk EXPRESS TONES in three matching, wearable, metallic shades that the industry has been asking for, including Rose Gold, Moody Blue and Smokey Silver.
The PRECIOUS METALS Collection gives stylists the artistic freedom to create an unlimited number of looks, plus the opportunity to layer for longer-lasting, more vibrant color. From all-over, shimmering shades to custom formulas and techniques, PRECIOUS METALS offers maximum hair color deposit and longevity. The collections is available now at SalonCentric, State|RDA Pro-Mart, East Coast Salon Services & Four Star Beauty.
Check out the video below of Presley creating her look!
[Images and video courtesy of PRAVANA]