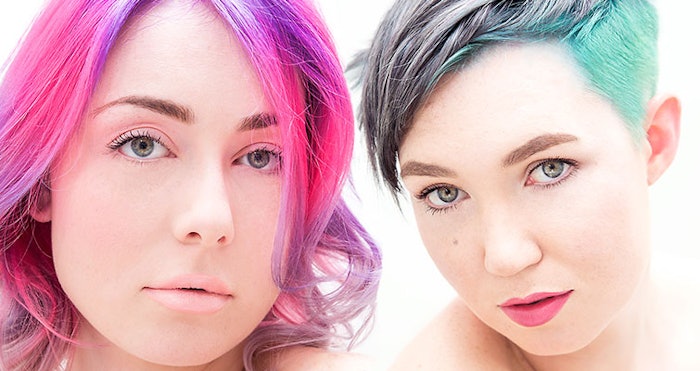 Created for Launchpad readers, Joe Espinoza dreams up intense colors and unusual combinations in a brand-new shoot featuring Schwarzkopf Professional Igora Colorworx.  
Inspired by the Pearlescence color box, Joe's first look on model Melissa Kimbro incorporates purples and vibrant neon pinks flowing into a soft lilac silver. Joe explains, "I wanted to intensify those colors by creating lavender purples and bright pinks going into bluish minty silvers."
How Joe Created the Look:
I sectioned the hair into fourths to start and then added a fifth section at the top of the crown in a rectangle going back. I started with the base color application first going around the head leaving the fifth section out. Then I proceeded with the middle color with small sections keeping everything completely saturated especially when melting from one color to the next.  Each color is applied without touching the previous color. Using foil or plastic to separate section number 5 from the rest is the best way to keep a clean process. I started section number 5 with the base color working through the crown and moving towards the hairline using a Balayage technique, pushing the base color down more in some sections than others. This results with flexible parting options for the model which allows the hair to flow from side to side beautifully.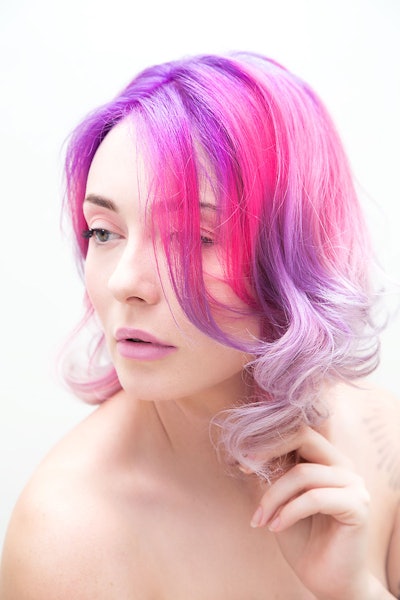 Base: Pearlescence 20g 9.5-29 and 20g of Igora Colorworx Purple.
Middle Shade: Igora Colorworx Pink
Ends: Igora Expert Mousse 9.5-12 with a smidge of Igora Colorworx Purple.
For Joe's second model, Theresa Baxter, Joe wanted to combine an unusual combination of colors to showcase  a variety of silvers with Igora Absolute Silver Whites as a fashion-color working together with Igora ColorWorx Green.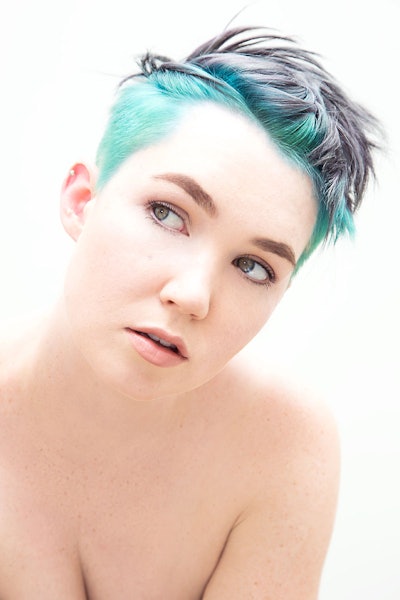 How Joe Created the Look:
Pre-lift with Blond Me Premium 9+ lightener and 20v Blond Me Premium oil developer in a 1:2 mixing ratio. I followed with a Minty Green base color mixing Pearlescence and Colorworx together once again influencing dimensional pure silvers tones in multiple levels through the ends with a vibrant base color in a green direction.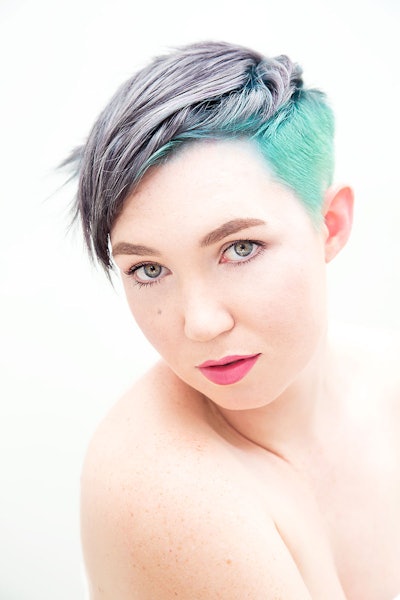 Foiled/Weaved: 10g of Slate Grey with 10g of 10v Igora Royal oil developer.
Foiled/Sliced: 10g Grey Lilac with 10g of 10v Igora Royal Oil developer.
I continued with a free hand application starting on the ends with 10g Dove Grey and 10g Igora Royal oil developer and ended with 10g of Pearlescence Use 9.5-43 mixed with 10g of Igora Colorworx Green and 10vol Igora Royal oil developer as the base color. 
Find Joe Espinoza at his salon JoeDoesHair, located at 1288 S. La Brea Ave, Los Angeles, CA 90019. For more information visit joedoeshair.com.
 
CREDITS:
Hair: Joe Espinoza [joedoeshair.com, @joedoeshair]
Models: Melissa Kimbro and Theresa Baxter
Photographer: Iris Ray [irisrayphoto.com​, @irrisrray]