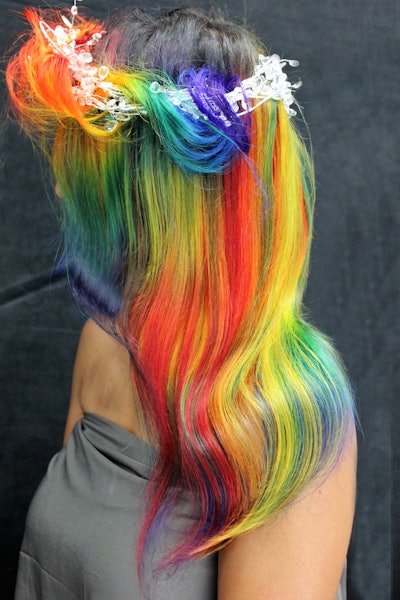 PRAVANA Regional Artistic Trainer and Orlando-based colorist, Lissette Cruz, recently collaborated with Passion Wilson-Suarez, a survivor of the Pulse Nightclub tragedy for a hair color transformation. While the tragic events are still difficult for her to talk about, this transformation was Passion's way to help tell her story and honor the victims through her own creative expression.
 
"In the wake of the tragedy in Orlando, unity and love is what conquered within the community," said Lissette. "We are #OrlandoStrong."
 
After doing a Balayage look technique with the Pure Light Balayage Lightener, Lissette transformed Passion's hair into a beautiful, vibrant rainbow of strength using the below technique:
Front panel around the face, apply VIVIDS colormelt from scalp to ends: VIVIDS Red to VIVIDS Orange to VIVIDS Yellow to VIVIDS Green to VIVIDS Blue to VIVIDS Violet.
Second panel (behind the first), apply VIVIDS color melt from scalp to ends: VIVIDS Violet to VIVIDS Blue to VIVIDS Green to VIVIDS Yellow to VIVIDS Orange.
Section off 6 panels in the back. Using a color block method, color each section with VIVIDS from left to right: VIVIDS Red, VIVIDS Orange, VIVIDS Yellow, VIVIDS Green, VIVIDS Blue and VIVIDS Violet.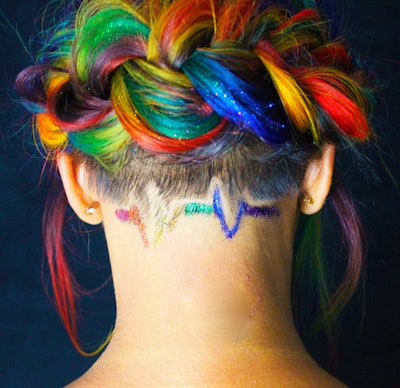 In honor of the victims of the Orlando tragedy, including salon owners Juan Riveria Velazquez and his partner Luis Conde, PRAVANA has made a charitable contribution to assist their team at D'Magazine Salon in Kissimmee, FL with operational costs and expenses. To learn more and donate, please visit https://www.gofundme.com/29ktgp3g.
CREDITS
Hair: Lissette Cruz
Model: Passion Suarez-Wilson
Photography: Lissette Cruz